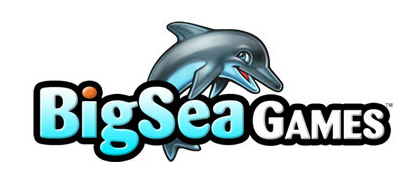 On August 18, 2009, the Big Fish Game Community will become Big Sea Games. Bigger and better than ever, Big Sea Games will feature many of your favorite games, redone with larger graphics and new challenges as well as a host of other features. It is the same community you know and love, but with more features and more fun.
Big Sea Games will launch with many of your favorite Game Community titles including Unwell Mel, Fairway Solitaire and L.O.B.E. If you have played on the Big Fish Game Community, never fear – your tokens and game progress will be making the move to Big Sea Games.

If you are a Game Community subscriber, you will enjoy new benefits befitting your status in the Big Sea Games community – check your email or the FAQ to learn more!
When Big Sea Games launches, you will be able to create your own Sea-MeTM avatar, earn awards through in-game challenges, and hang out with your friends in our new forums. We will be sharing many of these new changes over the next few weeks.
Access to Big Sea Games will be limited to registered Big Fish Game Community players only. If you do not have a Big Fish Game Community account by August 18, 2009, you will have to submit your name to a waiting list.
In the meantime, you can take a few steps to prepare for Big Sea Games.
Make sure that you have a Big Fish Game Community account. If you regularly play on the Big Fish Game Community, you are ready to play at Big Sea Games.
If you are just joining us, create an account now. Follow the steps to confirm your email address. Then, play one of the many Game Community games for a few minutes. That is enough to get you access to Big Sea Games.
You probably already have Flash on your computer. If not, it is easy, fast and free to install Flash on your computer. Go to the Adobe Flash website to start the installation.
The following games that will be playable on August 18th, 2009:
Deuces Wilder*
Fairway Solitaire
Farm 52*
L.O.B.E.
Mahjong Towers Eternity
Mush!
Oz Video Poker
Plunder
Riddle O'Day*
Shape Shifter
Suits Me Canfield
Suits Me Free Cell
Suits Me Pyramid
Suits Me Solitaire
Suits Me TriPeaks
Suits Me Yukon
Team Bingo
Thunderbolt 21
Unwell Mel
All of these games have been updated with larger graphics and Awards. Games marked with an asterisk (*) also feature new game play!
Games to be released shortly after August 18th, 2009:
Badda Bingo
Big Fish Slots
Diana Fortune
Dive Deeper
Lightning Bingo
Looking Glass
Madama Libra
Patchworkz
SnowGlobe
Finally, the first time you sign in to the new site, you will have the opportunity to create your Sea-Me(TM) avatar. Your Sea-Me represents you on Big Sea Games. The customization options are endless!