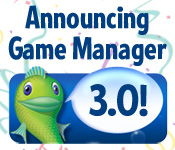 We're very happy to announce the release of Game Manager 3.0! Look for the new Game Manager to be available tomorrow morning (7/27/2011).
The redesigned, revamped Game Manager looks better, runs better, and is much easier to use than ever before. You'll be able to easily see and organize the games you have installed, find new games you want to play, and purchase any games you want to buy!
We've worked very hard to make this version of Game Manager the best one yet. We hope you enjoy the updates.
What's new in 3.0?
We've given the face of Game Manager a complete makeover so it's easier for you to find and play your games. Beyond the look and feel of Game Manager, you'll also notice new functionality that will make playing your games and finding new ones easier than ever.
Some of the changes you will you see include:
A new sidebar helps you find your way around easily. Located on the left-hand side of Game Manager, the sidebar lets you sort your games in 4 different ways, see what's downloading, find game recommendations, and see your most recent activity.
Resizable window so you can make it the size that works for you. Make the window bigger to see more games, or shrink it down so that it fits better on your computer screen. The choice is yours!
Line up your game downloads with the Download Queue. The Download Queue replaces the "In Progress" tab of Game Manager. Games you download from our website will stack up here and you can watch the download progress. If any updates that fix issues with any games you have installed are available, you will also see a section called Updates in the Download Queue. Here, you choose which updates you want to install and start the process all from one convenient place.
Discover new games with Games You'll Love recommendations. We've brought our Games You'll Love recommendations to Game Manager so you'll always find games that you will love to play. You can download and install Games You'll Love right from Game Manager. We're always updating our selection of games, so you'll never be without new games to try.
See your most recent game with the Recent Activity section. The game you last interacted with now shows up in the sidebar. This includes games you've recently played or purchased. If you ever have an error associated with a game, you can learn more about it here.
Find out more about Game Manager with the sidebar promo. You'll get a chance to take a quick tour of Game Manager 3.0 when you first start using it. Watch this space in the bottom left-hand corner of Game Manager for other promotions and offers tailored just for you.