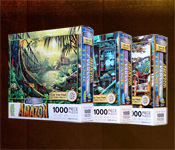 Now you can relive all the fun of Hidden Expedition: Titanic, Hidden Expedition: Everest, and Hidden Expedition: Amazon in jigsaw puzzle form.
We're very happy to announce the availability of Hidden Expedition Jigsaw Puzzles from Ceaco! Founded in 1987, Ceaco has remained true to their mission: They create high quality, innovative and challenging jigsaw puzzles that provide hours of family fun.
Best of all, these puzzles bring you the chance to mix modern casual gaming passion with traditional casual gaming fun. Each 1000 piece puzzle has a collection of hidden objects for you to find!
All Hidden Expedition Jigsaw Puzzles are made in the USA and are ready to be ordered today. Learn more on the Official Hidden Expedition Fan Site.
Order Your Hidden Expedition: Amazon Jigsaw Puzzle
Order Your Hidden Expedition: Everest Jigsaw Puzzle