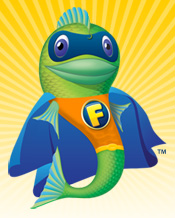 Felix has outdone himself this time…
Announcing the Big Fish Games March Super Sweepstakes!
Throughout the month of March, there will be five weekly sweepstakes with prizes ranging from high-end laptops to limited-edition Big Fish Games gear. To qualify, buy any 2 games (or redeem 2 game credits/gift certificates) from the site and you'll automatically be entered to win one of that week's prizes*.
Simply put, 2 games = 1 entry…and there's no limit on the number of entries! It should be noted, however that purchasing 1 Collector's Edition = 1 entry.
Here are just a few of the prizes that are available. Just imagine yourself lying on your beach towel, playing games on your laptop, sipping a 'drink of your choice' from your Big Fish Games mug!

For a compete list of this week's amazing prizes and to learn more about the sweepstakes schedule, visit the Official March Super Sweepstakes page.
As much as we love our international customers, this sweepstakes is for legal residents of the United States only. Please refer to this article for details regarding customer eligibility.