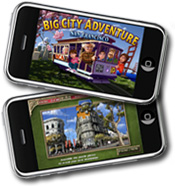 We are happy to announce the release of Big City Adventure: San Francisco for the iPad, iPhone, and iPod touch.
In what amounts to an iPhone first, players can take advantage of Z2Live's peer-to-peer multiplayer with voice chat. Play a hidden object scavenger hunt against a friend using Wi-Fi, 3G, and even EDGE technology. Enjoy fully supported real-time voice chat while you play.
"Big City Adventure: San Francisco turns mobile gaming into a social experience using iPhone and iPad's built-in networks – Wi-Fi, 3G and EDGE," said Patrick Wylie, vice president of Big Fish Games Studios, in a release. "Friends can chat while playing against each other from wherever they are in the world."
Join the Big City Adventure treasure hunt as you travel to San Francisco in search of thousands of cleverly hidden items. Travel to San Francisco's most famous locations as you discover 60 fascinating and obscure historical facts. Earn 60 cool mementos from the 20 amazing locations you'll visit.
"…Big City Adventure: San Francisco is a top-notch package with great family appeal." – Gamezebo
Learn more about Big City Adventure: San Francisco.