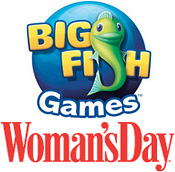 We're happy and excited to announce a new partnership with Woman's Day!
Woman's Day, the fourth-largest magazine in America, provides its audience of 24 million women with unique and exclusive entertainment, and this new collaboration expands that service.
"The breadth of our catalog offers Woman's Day readers and website visitors with a wide range of entertainment," said Lewis. "Casual games are a great fit for Woman's Day readers, who enjoy learning about ways to live well every day. Our games offer them relaxing, mentally stimulating enjoyment, and the convenience of playing whenever there's a break in the day."
Woman's Day readers can expect a special gaming offer in the much-anticipated back-to-school September issue available in early August. Other special offers will follow.
"Woman's Day Magazine speaks to the CEO of the household, the woman," said Carlos Lamadrid, senior vice president and chief brand officer of Woman's Day Brand Group. "Our readers – and women everywhere – are now driving the online gaming market. Through this partnership with Big Fish Games, our readers can now access unique content and special offers for fun, family-friendly games."