Big Fish Games (Spanish) Celebrates 1st Anniversary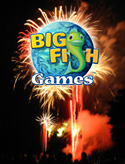 Big Fish Games en Español celebrates its first anniversary in March, 2008. The site has experienced a great deal of success in a very short period of time. Spanish speaking visitors from all over the world have found their way to the site to find our games featured in neutral Spanish.
Site Manager, Andres Cubero, has watched over the development and growth of the site. He sat down with us to talk about the challenges and opportunities he faced during the first year and what we can expect for Big Fish Games en Español during year two.
The past year has been really interesting and successful. Since day one we have tried to maintain a global vision with our approach to the Spanish speaking audience. We target Bolivia, Spain, Argentina, Mexico, Guatemala and all other Spanish speaking countries – including the United States. Spanish is spoken all over the world. We don't want to limit the site to a specific country.
How has this approach impacted the site?
To work with so many different countries (over 20) implies that we have to present the site to each of them in a neutral fashion. So we are always using a neutral Spanish understood by all our Spanish speaking customers. That characteristic of Big Fish Games en Español allows the site to have the highest level of quality and distinguishes us from other Casual gaming sites targeting a smaller Spanish speaking audience.
How often are you able to publish a new game for the Spanish site?
When we first launched the site in March, 2008 we released a game every four days. The customer response was so great, however, that within the first two months we ramped it up to a game every other day – the most by any Spanish casual gaming portal.
We are happy to announce that to celebrate our first anniversary we are increasing this output to four games per week!
What does this process for launching a game look like?
Launching a new game involves many steps to insure the best gaming experience for our customers. To manage these steps, we rely on our Localization Department (managed and coordinated by Matt Decker and Keely Alexander). Their main goal is to get manage the flow of content for the sites.
The Localization team analyzes games from the Big Fish Games English site (www.bigfishgames.com) to see what would be a good fit for the Spanish speaking audience. Pros and cons are evaluated before a decision is made. From there we start working with the developers to offer a Spanish version of the game. Once we get the material to localize the game we start doing translations by hand.
All translations are done by hand?
Yes, but it isn't always done in-house. We work with expert translators around the world we are in contact with every day in order to get the neutral Spanish we want for our games. As I said, we are targeting many different Spanish countries with different cultures and Spanish dialects. That forces us to pay close attention to the translations and to make sure every word can be understood by the largest number of Spanish speaking customers.
What can you tell us about the Spanish speaking audience?
We've expanded to the Spanish market at a great time. The Spanish speaking audience is excited to get high quality games at a reasonable price. We are relentless in our focus on the customer. That's something the Spanish speaking audience perceives and responds to.
What do you anticipate for year two?
Our goals are focused on offering the highest quality games and continuing to provide the best Spanish gaming experience to our customers. The upcoming year is going to be packed with great games, exciting surprises, and other interesting news.
Any last second thoughts?
What I love about Big Fish Games en Español is the way different Spanish cultures converge to participate in the best casual gaming experience available. People from all over the world going to our portal and relying on us for a great gaming experience…that is priceless.
Also, the Spanish team, which is made up of professionals from Venezuela, Spain, Argentina and Honduras, is a fantastic team to be a part of. The level of talent within the team is amazing. Our main goal is always to give the customers a reason to come back to enjoy the games we love to work on.
Thanks, Andres!