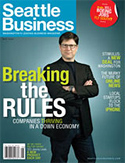 Big Fish Games was featured in the latest Seattle Business Monthly magazine. The article highlights "companies thriving in a down economy" in and around Seattle.
CEO, Jeremy Lewis was featured on the cover and was interviewed for the piece.
One interesting part of the interview came when Jeremy was asked who he is currently looking to for advice in this down economy. Warren Buffett? Bill Gates? Jack Welch?
Find out how Big Fish Games' CEO extracts business guidance from the world's first leader in casual entertainment by reading the article at Seattle Business Monthly. You'll also get the chance to read about several other successful Washington companies who are finding innovative ways to deal with current economic challenges.