Big Fish Games Teams Up with Harlequin Enterprises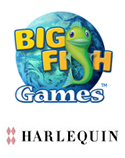 On January 23rd, Big Fish Games and Harlequin Enterprises Limited announced a new licensing partnership. The agreement will see Big Fish Games publishing a new line of interactive games beginning summer, 2009. The games will be inspired by Harlequin Presents, the most popular romance-novel series in the world.
Additionally, Harlequin will publish a branded series of books inspired by the Mystery Case Files series of games and written by Harlequin's bestselling authors beginning the second quarter of 2010. The award winning Mystery Case Files line of games has sold over 3 million units and is widely recognized as a leading franchise throughout the gaming world.
"We are delighted to be Big Fish Games' partner in this venture," said Donna Hayes, Publisher and CEO of Harlequin Enterprises. "Our companies share vast and rapidly growing female audiences. Our partnership with Big Fish Games will allow us to engage our customers in a truly unique manner."
"The Harlequin and Big Fish Games brands are an excellent match," said Jeremy Lewis, President and CEO of Big Fish Games. "Harlequin has a uniquely talented team, and we are thrilled to be collaborating with them in bringing these exclusive new products to our worldwide consumer base."