Casual Connect 2011 Networking Events Schedule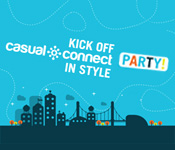 To kick off our local coverage of Casual Connect 2011 here in Seattle, we thought we would thrown down what every attendee cares about most – the networking events!
Each event offers a grand opportunity for meeting new people, connecting with key industry icons, and having a great time. Also, if you are new to Seattle, you'll get to see some of our best party venues including The Garage, The Seattle Aquarium, and the Fairmont Hotel Ballroom.
Have a great time and remember, cabs are always just a phone call away. Also, don't forget, lectures start at 9:30am sharp! :)
Pre-Funk Party & Badge Pickup hosted by Mochi Media
WHEN: July 18th, 2011 @ 6:00pm – 10:00pm
WHERE: Fairmont Hotel Ballroom
WHAT: Relaxed lounge party beer, wine, cocktails, and light snacks
Games Party Mingle hosted by EA Partners
WHEN: July 19th, 2011 @ 5:30pm – 7:00pm
WHERE: Grand Lobby of Benaroya Hall
WHAT: Happy hour with beer, wine, and cocktails
Official Casual Connect Party hosted by OpenFeint
WHEN: July 19th, 2011 @ 8:00pm – 12:00am
WHERE: The Garage
WHAT: Bowling, billiards, drinks, and appetizers
Minna Mingle hosted by TransGaming
WHEN: July 20th, 2011 @ 5:00pm – 7:00pm
WHERE: Grand Lobby of Benaroya Hall
WHAT: Happy hour with beer, wine, and cocktails
Official Casual Connect Party hosted by WildTangent
WHEN: July 20th, 2011 @ 9:00pm – 1:00am
WHERE: Seattle Aquarium
WHAT: Relaxed lounge party with beer, wine, cocktails, and appetizers
Meet the Investors Mingle hosted by Corum Group & Founders Institute
WHEN: July 21st, 2011 @ 4:30 – 6:00 pm
WHERE: Founders Room, Benaroya Hall
WHAT: Relaxed lounge party with beer, wine, and cocktails