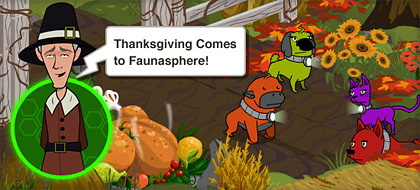 'Tis the season for Thanksgiving fun. Big Fish Games is proud to announce the latest holiday zone update for Faunasphere: Thanksgiving!
If you haven't done so already take a moment to stop by Camp Gobblefield, our latest holiday zone! Participate in the Community Pie Baking Project, check out the latest autumn decorations for your Faunasphere and then hop over to the Mire Knoll Goal Station where you can learn about the "Crock" that can help you create Premium 6 smilie food!
As you make your way through the new zones, you'll encounter wonderful Thanksgiving themed objects including pumpkins, hay bails, piping hot turkeys, falling leaves, and scarecrows! It's all great fun you're sure to enjoy and best of all, the update is free!
We've included some screenshots to give you a feel for what the update has in store (the Hoofer is hiding in one of the screenshots…can you find him?). Head over to Faunasphere today and enjoy the seasonal fun.