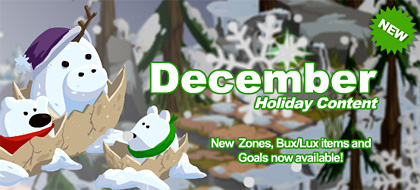 The holiday season is in full effect and Faunashpere is happy to offer you a new holiday themed zone complete with new Lux / Bux items and new goals to pursue!
If you haven't done so already take a moment to head over to the Frozen Village. From there, you'll have access to Wintergift Valley, the latest holiday zone!
Participate in the Community Wintergift Tree Project, the Community Gingerbread House Project, check out the latest holiday decorations for your Faunasphere, and then head over to the Wintergift Valley Goal Station! You can also visit the gift store and pick up limited edition holiday items.
As you make your way through the new zones, you'll encounter wonderful holiday themed objects including snowfauna, decorated trees, wrapped gifts, candy canes, and more! It's all great fun you're sure to enjoy and best of all, the update is free!
We've included some screenshots to give you a feel for what the update has in store. Head over to Faunasphere today and enjoy the seasonal fun.