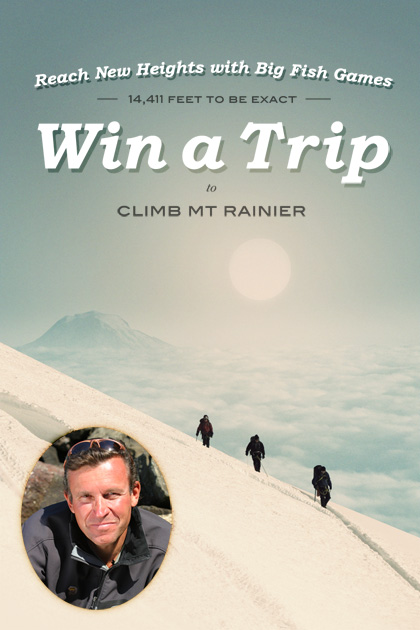 Reach New Heights with Big Fish Games!
Our partner developers know Big Fish Games can take their games to new heights, but now we're offering all of our partners the chance to reach new heights themselves – literally. We're talking 14,411 feet, to be exact.
Starting this October, any developer who launches their game on BigFishGames.com will have a chance to win a trip to Seattle to climb Washington state's famous Mount Rainier with one of the world's premier high-altitude mountaineers, Ed Viesturs!
Ed will be your personal guide as you attempt to summit the fifth-highest mountain in the contiguous 48 states and the highest point in Washington state. Ed is one of only 17 people in the world to have climbed all 14 mountains on earth above 8000m (26,247 ft), so you'll be in excellent hands. Additionally, we'll take care of all your necessary climbing supplies and gear, as well as your flight to Seattle, ground transportation to Mt Rainier, five nights hotel stay and $500 in cash for spending money. You can even bring one friend with you as a traveling companion, although only the winner will be taken on the summit attempt up Mt Rainier.
Retroactive to August 1st, 2009, any third-party developer who launches a game on our site can enter the contest. All you have to do to enter is email climb (at) bigfishgames (dot) com with the following information:
Your name
Your company name
The name of the game you're launching on BigFishGames.com
As long as the game you list is launched between 8/01/09 and 5/31/10, you're eligible to win. The winner of the trip will be the third-party developer whose game generates the greatest gross revenue in its first 30 days of calendar release on Big Fish Games' web site. That means whoever has the biggest first month following their game's launch wins the trip! However, only ONE person is eligible to win. If a group of people developed the winning game, you'll have to choose an official representative to go on the trip.
Once again, you must officially enter the contest by emailing climb (at) bigfishgames (dot) com to qualify for the trip. For more information, see the official rules of the contest. Good luck!