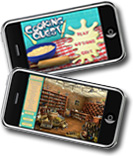 Big Fish Games' Studios is proud to announce the release of Cooking Quest for the iPhone and iPod touch.
Congratulations, you've been awarded a coveted entry for the Chef's Challenge contest in Foodville's Restaurant Row!
Grease the cast-iron skillets as you gather ingredients to smoke the competition away. Manage your budget as you create multi-course gourmet meals in Foodville's most elite restaurants. Can you stand the heat and become a Master Chef? Start at Chop City Steakhouse on Restaurant Row and find out in this time-management Cooking Quest.
Learn more about Cooking Quest for the iPhone and the iPod touch.