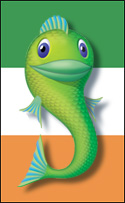 On Thursday, April 9th, we announced the opening of our new European Headquarters in Cork, Ireland.
The new office will focus on multilingual game testing, customer support, and product localization. The creation of 100 new jobs is anticipated over the next three years. New job seekers will be required to have excellent customer communication skills, particularly in French, German and Spanish as localized games are offered for all three language speakers.
Tánaiste and Minister for Enterprise, Trade and Employment Mary Coughlan said the decision by the company to establish its headquarters in Ireland was a major coup and would lend a positive slant to the IDA's continuing efforts to attract investment into the country. She was stateside Thursday, April 16th visiting Big Fish Games' Seattle office during the morning hours.
Ms. Coughlan said the focus for attracting investment from abroad was based largely on Ireland's "intellectual property".
"We have seen an evolution over the last couple of years moving from traditional manufacturing to online media, life sciences, pharma and RD. The announcement by the Minister [for Finance] in supporting from a taxation perspective our intellectual property is the next step in attracting those high-quality jobs," she said.
Cork chamber president Joe Gantly cited our decision to locate in Cork as a positive statement on Cork's ability to attract digital, knowledge-based industry.
"It's a real vote of confidence in Cork's capacity to compete internationally in the knowledge economy. It is also testament to the availability of quality, globally aware, highly skilled professionals who will ensure Big Fish Games success," he said.