Dark Manor: A Hidden Object Mystery Tips and Tricks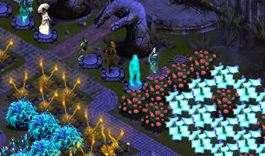 Welcome to the Dark Manor: A Hidden Object Mystery and Tricks! The bayou. The roaring 1920′s. A supernatural secret. Step into Dark Manor, where ghostly hosts will help you find your way! Beautify your manor and explore the spine-chilling hidden object scenes… if you DARE!
Whether you use this document as a reference when things get difficult or as a road map to get you from beginning to end, we're pretty sure you'll find what you're looking for here.
This document contains a complete guide featuring annotated screenshots from actual gameplay!
We hope you find this information useful as you play your way through the game. Use the menu below to quickly jump to whatever stage of the game you need help with.
This guide was created by prpldva
General Tips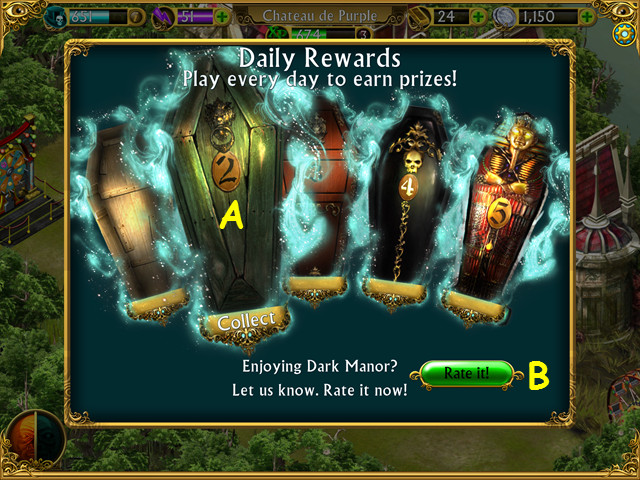 Log in every day to Dark Manor: A Hidden Object Mystery to harvest your manor, give and get gifts, and collect your daily reward (A).
Once you have received your reward, make sure to rate the game (B).
Build objects to earn Juju and open levels!
Link to your Facebook account and invite your friends to play. The more neighbors you have, the more gifts you can receive.
Post a picture of your manor on the Dark Manor Facebook page for a chance to win gold and be featured in the game.
Watch for sales and tournaments to increase your goodies.
Check in the Dark Manor game forum at http://forums.bigfishgames.com/forums/show/3392.page to meet other players and learn tricks they have discovered.
Getting Started and Playing Quests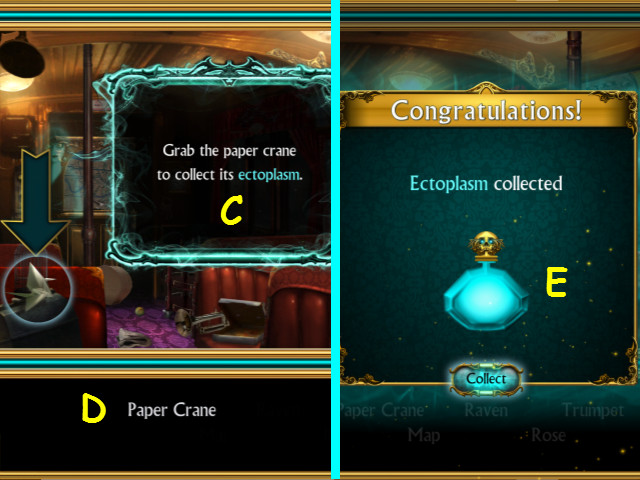 Once you initially enter the game, you will have a brief tutorial (C).
Follow these prompts to learn how to move around the game.
You begin by finding items on a list (D). You will collect ectoplasm for every item you find (E).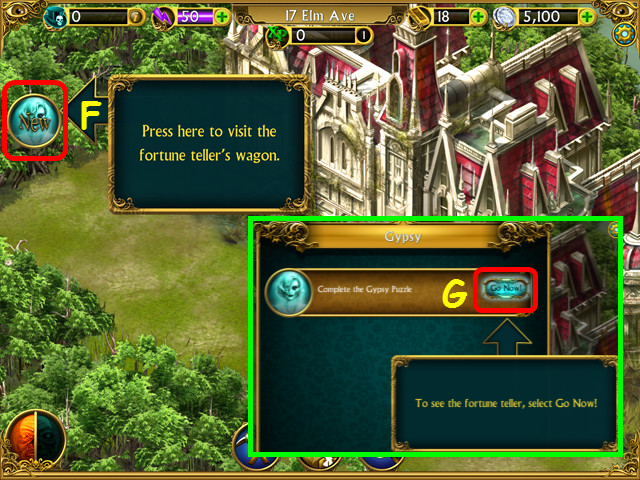 Next, select a quest button on the left (F).
You will see a pop-up explaining the task. Press 'Go Now' to begin the task (G).
Some tasks you can skip with gold.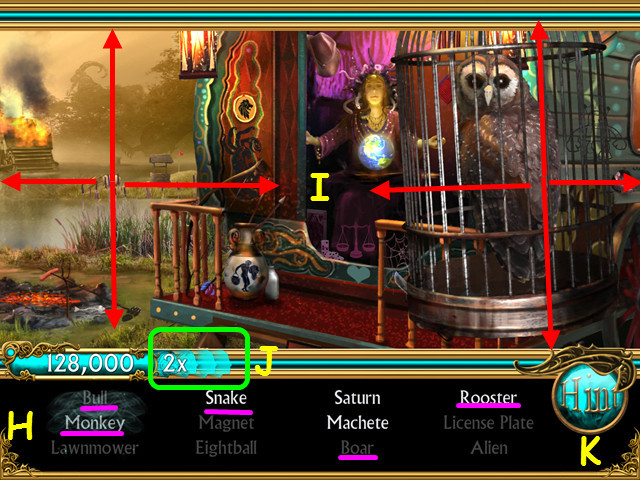 Locate the items on the list to complete the quest (H).
There are different hidden object modes you will play during the quests.
Classic Mode will have 12 objects to find. Scramble mode also has 12 objects to find, but turns the list into anagrams.
Split screen mode will have you find the differences between two pictures. Category puzzles will have you find six instances of two separate objects.
Blitz mode will have you find as many objects as you can in the allotted time. Lightning blitz has you find one object in a limited amount of time. Finding this object activates another object to find and adds time to the clock.
The scene is initially in close-up, so drag it around to see everything (I).
You can also 'pinch' the screen to zoom out.
Finding items while the meter is active will increase your score (J).
You can increase your score by finding items in alphabetical order, or in special groups such as 'Critters and former critters' (pink).
Check the Dark Manor game forum at http://forums.bigfishgames.com/forums/show/3392.page to see what special groups other players have discovered.
You can use the 'Hint' button to locate items, but your score will decrease when doing so (K).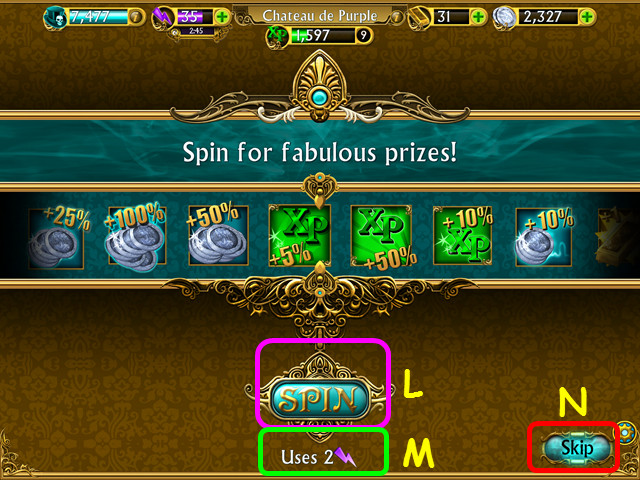 Spin for your prize (L).
Spins sometimes cost Energy (M).
You can also choose to skip this step (N).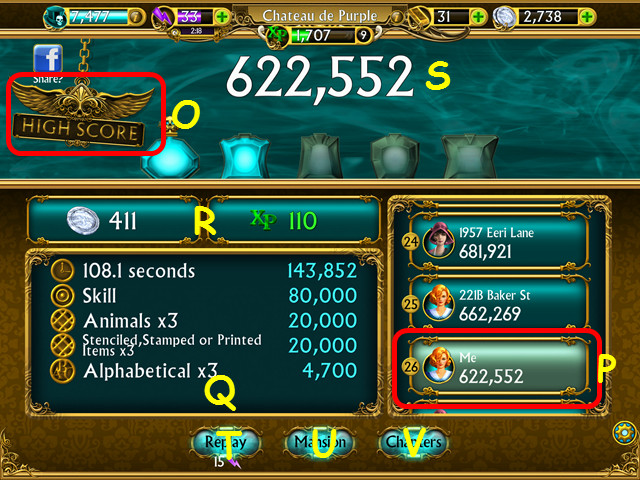 If you earned a high score, you will see a medal (O) and your score will appear on the list (P).
Bonuses you have earned will appear in the left panel (Q).
Silver and experience (XP) you have earned are shown here (R).
Your total score for the quest will appear at the top (S).
Use the buttons below to play the quest again (T), return to your mansion (U), or look at the available chapters (V).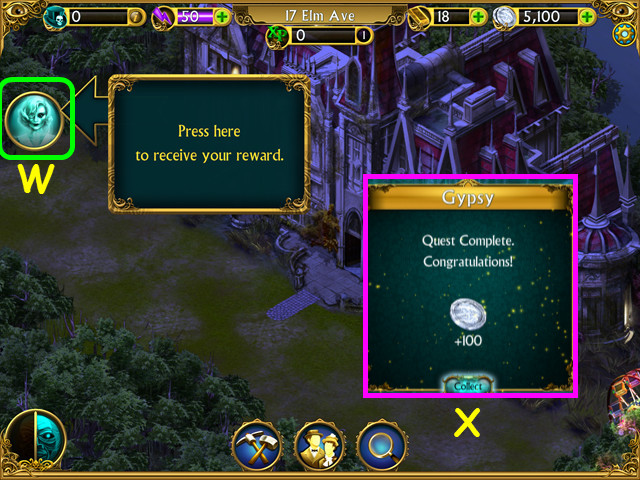 Once you return home, select the quest button again (W).
Collect your reward (X).
The User Interface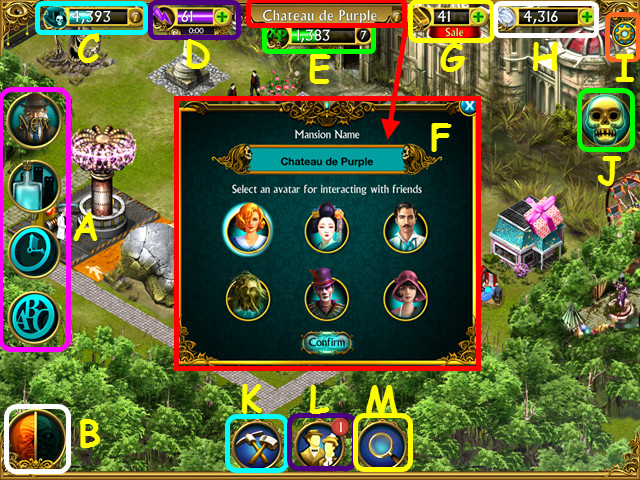 Your quest buttons are located on the left (A).
The bottom left button changes the environment from night to day and back again (B).
The blue meter is your Juju. Earning juju open up new locations to play. Earn juju with the items you place on your property (C). Select the meter to see how much juju you must collect to reach the next level.
The purple meter is your energy (D). Nearly everything you do will expend energy. Refill with gifts or purchases, or you can wait for the energy to refill over time. You can purchase energy with gold if you select the meter.
The green meter is your Experience or XP. The number in the circle is your XP level (E). XP is earned by solving hidden object scenes and completing quests. Select the meter to learn how many points until your next level.
Above the green meter is your mansion's name. Select the name to change and to select an avatar (F).
Gold is used to purchase energy, silver, and other items for your mansion. You can earn gold through achievements and awards like spinning the wheel. Select the meter to purchase gold with your iTunes account. Watch for a red flag or pop-up indicating a sale (G).
Silver is used to purchase items for your mansion. Earn silver by completing quests and harvesting the items you place on your mansion grounds. Select the meter to purchase more silver using your gold (H).
Select the gear to open the options menu (I).
The skull will take you to your achievement list (J). A flashing skull indicates you have earned an achievement and have an award waiting.
Select the tools icon to begin decorating your mansion grounds. Items are purchased with gold and silver (K).
The neighbor's icon will take you to an area where you can send and receive gifts and manage your neighbors. A red number indicate you have neighbor requests pending (L).
Select the magnifying glass to view the chapters and select a location to play (M).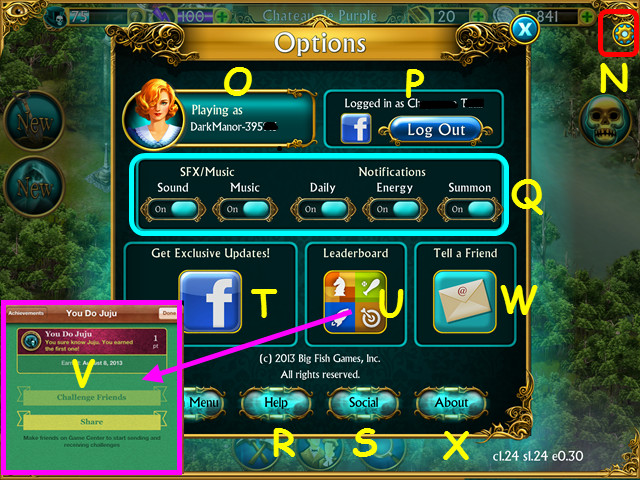 Open the options menu using the gear button (N).
Inside you will see your Dark Manor ID (O).
Use this button to log out of Facebook (P).
The Center buttons adjust your sounds and notifications (Q).
Press the 'Help' button to bring up buttons to FAQs and Support (R).
The 'Social' button will bring up the 3 buttons shown in the screenshot (S).
Use the Facebook button to link your account and receive exclusive updates (T).
Select the 'Leaderboard' button to see who has the highest scores. You can also view achievements you have earned (U).
Select an achievement to post it to Facebook or to challenge a friend (V).
Select the envelope to invite friends to play (W).
The 'About' button has buttons to link to the credits, Terms of Use, and Privacy Policy (X).
Your Dark Manor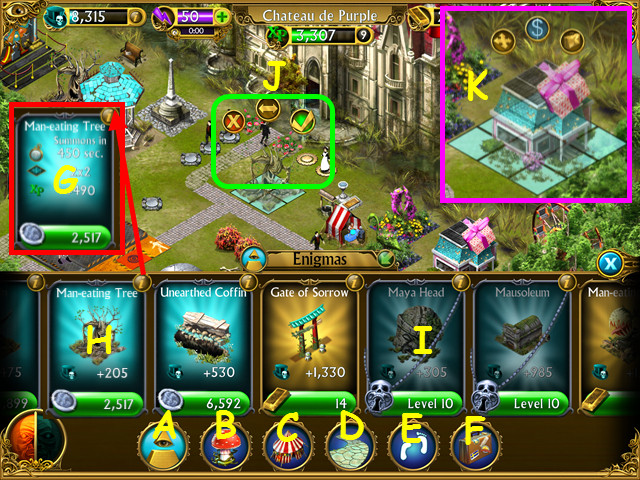 Select the 'Tools' icon to begin decorating your manor.
There are different item you can place on your property.
Enigmas (A), Decorations (B), Paths (D), and Walkers (E) cost gold or silver and will earn Juju once they are placed on your property.
Attractions (C) cost gold or silver and will earn you silver once they are placed on your property. Make sure your walkers can access the attractions by placing paths on your grounds.
Store items you do not want to use in your inventory (F).
Select the 'I' button to learn how long it takes an item to become available, how much space it needs, and the amount of XP you will earn for its purchase (G).
Select the item to purchase it (H).
Locked items become available as you level up (I).
Drag the item to the location you want and select the arrows to change the orientation (J).
Select the 'X' to cancel the sale or the check to place the items.
You will have to wait for the item to become available to summon. You can also pay gold to summon early.
If you want to move, sell, or store an item, press and hold to bring up the controls (K).
Selling items will always be at a loss. Removing items from your grounds will decrease you juju intake.
Press the crossed arrows to bring up the editing controls if you want to move the item. Press the dollar sign to sell the item, or press the suitcase to store the item.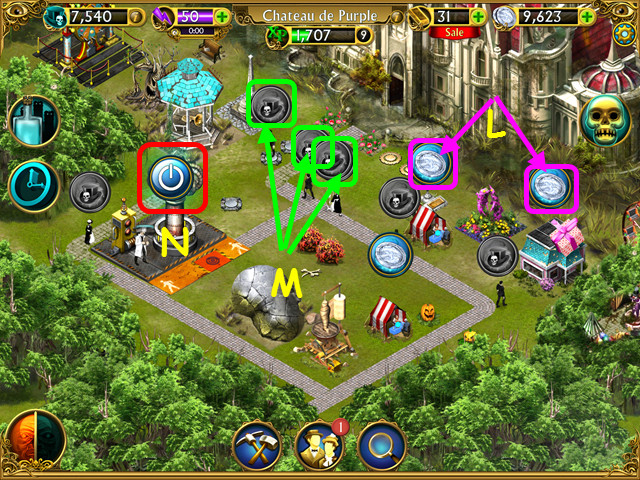 Collect silver during the day (L). Your scene will automatically change to the correct time of day.
Collect juju during the night (M). You can also change from night to day (N).
Some items require you to start them, and will provide a different reward depending on the time of day you harvest them (O).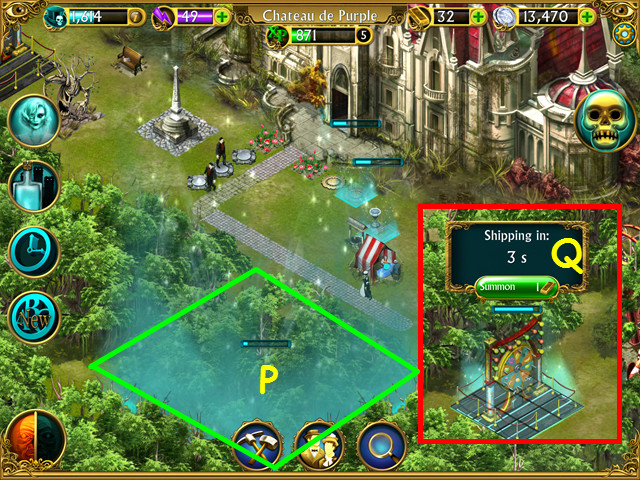 Purchase adjacent plots of land to expand your grounds. Select the land to purchase it (P).
Purchasing certain plots of land will make bonus scenes available.
Land and other items take time to manifest. Watch the meters to track progress; you can use gold if you do not want to wait (Q).
Neighbors and Gifts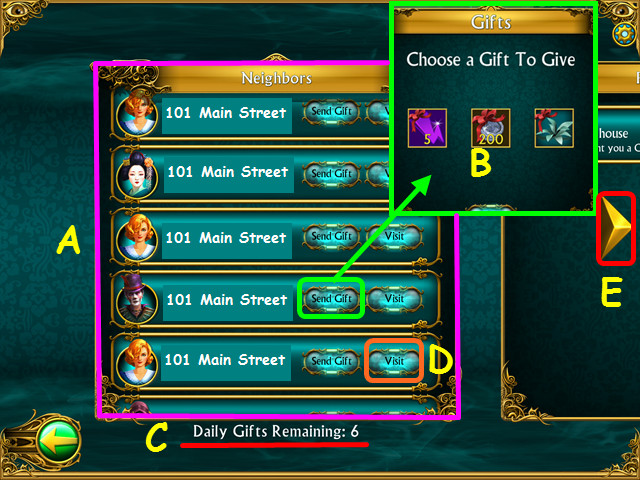 Select the 'Neighbors' icon at the bottom of the screen to manage your neighbors.
The first list you will see holds your current neighbors (A).
Send gifts to your neighbors here; you can send energy, silver, and flowers (B).
The flower will go into your inventory and can be placed on your grounds to earn juju.
You have a limited number of gifts you may give each day (C).
Select 'Visit' to travel to a neighbor's manor (D).
Press the arrow to scroll to the next list (E).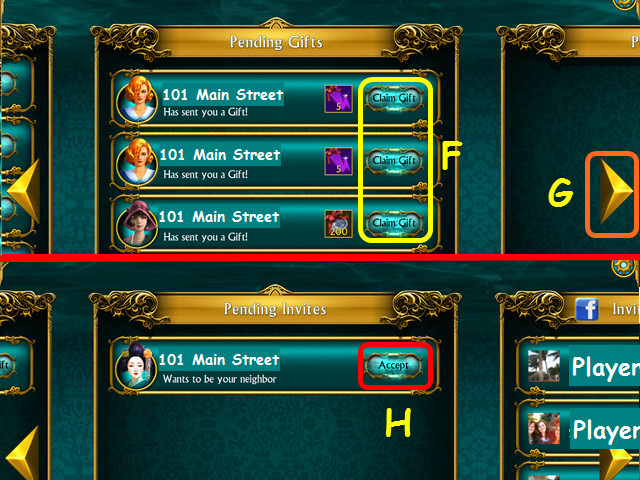 Claim gifts sent to you by others (F).
Press the arrow to scroll again (G).
Here you can accept invites from players that want you as a neighbor (H).
Continue scrolling to send invites to your Facebook friends, GameCenter friends, and other players.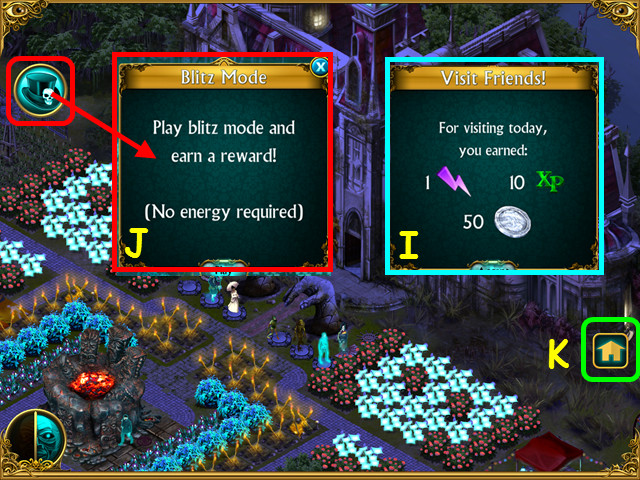 Selecting 'Visit' to travel to a neighbor's manor will take you to their grounds.
You will earn energy, XP and silver for visiting (I).
Select the task icon on the left to play a hidden object scene in Blitz mode (J).
Select the house icon to return to your manor (K).
Chapters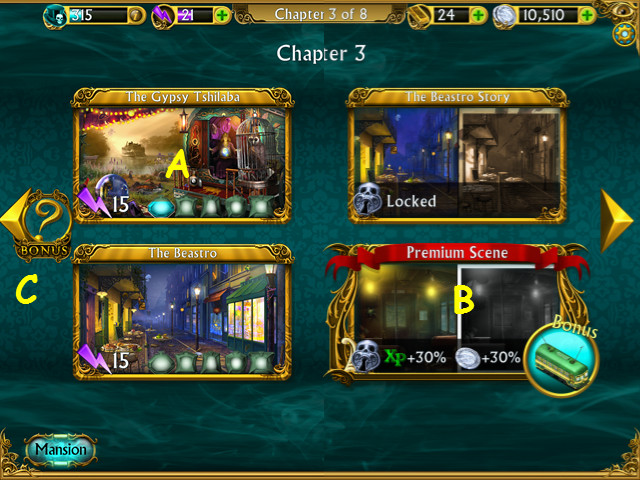 Selecting the magnifying glass at the bottom of the screen will take you to the chapters.
Open chapters will display the energy cost to play (A).
Locked chapters will have a lock and sometimes the amount of juju required to unlock the level (B).
Premium scenes cost gold to unlock; you will also earn bonus items (C).
Once you have cleared the land to these areas at your manor, select the bonus button to access those levels (D).
Select a location to play a hidden object item scene.