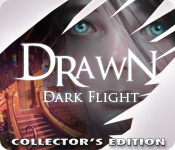 Now you can follow the development of all Drawn games on your favorite social media channel (ok, that's an assumption, but we suspect it's correct in most cases…).
Announcing the new Drawn Fan Page on Facebook!
Stay up to date on the latest developments in this amazing new game franchise. See concept art, trailers, and other special content from Drawn: The Painted Tower and Drawn: Dark Flight not available anywhere else.
Become a fan today by visiting the Drawn Fan Page and clicking 'Like'.