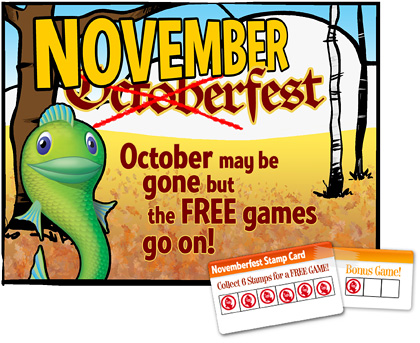 Back by popular demand – it's October…uh, Novemberfest!
October may be gone but the free games go on. And we've made one important change: this time, if you buy 6 games during the month, you'll still earn one credit for a free game. But, if you purchase 9 games during November, you'll earn a second free credit!
Here's how it works:
Buy ANY six (or nine) games on the site between November 1st and November 30th. Every game on the site is eligible, but only purchases made by 11:59pm on November 30th count!
On or around December 1st, we'll tally up everyone who's purchased at least six games during Novemberfest.
Very shortly thereafter, we'll email one free Game Club credit to everyone who has purchased six games, and TWO free credits to everyone who has purchased 9 games.
Choose your free games and enjoy!

Questions? Learn More About Novemberfest.