Speaking with enthusiasm and candor, Felix the Fish addressed the Patent and Trademark Organization (PTO) in Washington, DC yesterday.
Dubbed, "The Ambassador of Fun", Felix introduced government officials to casual games as a way of helping reduce the overall stress level in Washington.
"Given the fragile state of our economy and the inherent stress it brings to Washington, we felt it was our duty to offer elected officials a way to let off some steam. What better way to forget about your day-to-day problems than with an hour of free game play?"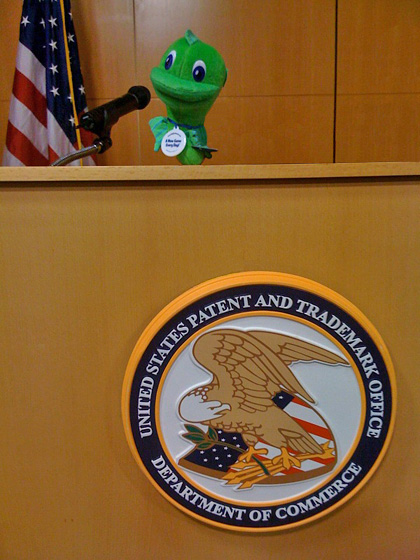 Although originally scheduled to speak about Big Fish Games' recent expansion to Ireland, Felix picked up on a general sense of tension when he entered the nation's capital and took it upon himself to adjust his schedule.
"Hopefully our visit to the PTO was only the beginning. Big Fish Games is prepared to offer casual gaming fun to every member of the United States Government as well as the rest of the world!"
Before heading back to Seattle, Felix made one final stop at the Treasury Department to drop off free copies of Money Tree and Road to Riches.
On a related note, the Obama family is known to have spent many hours during their search for a new dog actually playing Finding Doggy (although, we aren't sure it had any impact on their final choice given there are no Portuguese Water Dogs featured in the game).