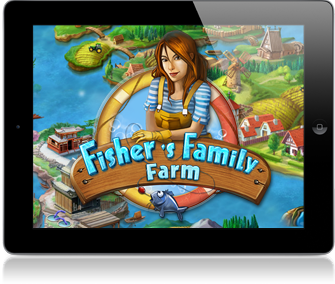 We're happy to announce the release of Fisher's Family Farm HD for the iPad!
Take on the role of Marissa Fisher as you step up to save a struggling fish farm. In this fast-paced Time Management game, your job is to keep your fishy friends happy by delivering tasty meals on-time and on-target.
As the fish grow, you'll have the opportunity to sell them at the market and use the proceeds to increase the size and efficiency of the family farm. Help Marissa save the Fisher Family Farm!
Key Gameplay Features
We wanted to take a minute to list what makes this game so much fun.
1. Gorgeous Farms
This is truly a polished game with engaging visuals and loads of buildings to choose from. As you progress through the game, you'll have the opportunity to purchase these buildings for your fish farm.
2. Great Locations
Travel to Europe, Russia, mainland USA, Japan, and Hawaii in your quest to save the family fish farm.
3. Pelican Predators
It's one thing to care for your fish by feeding them each day. It's another thing entirely to protect them from watchful pelicans! Keep a sharp eye on these pesky predators.
4. Game Center Integration
Release your competitive side with Game Center Integration. Compete against your new friends for top honors in Fisher's Family Farm HD.
Screenshots