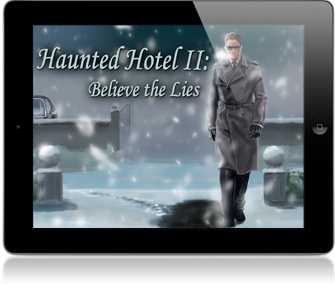 We're very happy to announce the release of Haunted Hotel II: Believe the Lies for iPad and iPhone.
A year has passed since the first encounter with the Haunted Hotel. Since then, a lone FBI agent has taken the case and discovered that the mystery is deeper than originally suspected. His investigation leads him to the Lonely Star, a Hotel with an intriguing mystery surrounding it. Can our hero find out who is behind the disappearances and close the case once and for all? Help the agent seek out the answers in his thrilling investigation of Haunted Hotel 2!
Beautifully converted for the iPad and iPhone, it's up to you to solve the mystery of the Haunted Hotel!
Key Gameplay Features
We wanted to take a minute to list what makes this game so much fun.
Rich, realistic graphics enhance immersion in this eerie tale
Hunt for useful items in multiple hidden object scenes. Use hints to aid your search!
Find and use tools to help on your investigation
Use your detective skills to solve a variety of mini-games and puzzles
Fluidly zoom in and out of scenes and even drag them around as you search for clues!