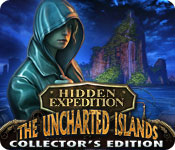 We're happy to announce the release of the Hidden Expedition: The Uncharted Islands Collector's Edition for the PC and coming soon for the Mac.
Upon attempting to leave the mysterious islands, you crash land onto an extraordinary string of uncharted islands and find yourself suddenly thrust into a new adventure! Before you know it, you're caught up in a hunt for a ruthless pirate holding the valuable and dangerous secrets of this long lost island chain. This game marks the sequel to Hidden Expedition: Devil's Triangle.
Use your Hidden Object skills to discover the buried mysteries that lead you deeper and deeper into the secrets of Hidden Expedition: The Uncharted Islands!
As with all Collector's Edition games, you'll receive bonus content including extra gameplay, an integrated Strategy Guide, a journal of game concept art, and wallpaper.
In conjunction with the release of The Uncharted Islands, we're also happy to share the new Hidden Expedition Fan Site.
Screenshots