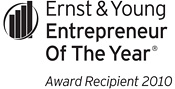 Congratulations to president and CEO Jeremy Lewis for being selected as the winner in the Ernst & Young Entrepreneur Of The Year Awards Program for Pacific Northwest.
This group of leading entrepreneurs was selected by an independent judging panel made up of regional business, academic and community leaders. As the first and only truly global award of its kind, Ernst & Young Entrepreneur Of The Year® celebrates those who are building and leading successful, growing and dynamic businesses.
"I am incredibly honored by this award and the recognition and acknowledgement of Big Fish Games as a category leader," said Lewis. "This award is a testament to the strength of our global franchise, our continued growth, and the entrepreneurial spirit that we continually promote in our values-driven, performance-based culture."
This year, the Entrepreneur Of The Year awards program celebrates its 24th anniversary. The program has expanded to recognize business leaders in over 135 cities in 50 countries throughout the world. Awards are given to entrepreneurs who demonstrate extraordinary success in the areas of innovation, financial performance and personal commitment to their businesses and communities. Entrepreneurs are nominated and evaluated by those in each region, including local business, academic and community leaders.
"Ernst & Young believes in the power of entrepreneurship," said Tim Tasker, Ernst & Young LLP Entrepreneur Of The Year Program Director for the Pacific Northwest. "These Entrepreneur Of The Year award recipients are best in class, and we are proud to honor their outstanding success."
You can watch the gala event here: Ernst & Young Entrepreneur Of The Year awards