Recently, Nintendo announced the release of Mystery Case Files: MillionHeir for the DS platform. Following Mystery Case Files: Agent X, this it the second mobile Mystery Case Files game. We have asked Big Fish Games Studios Producer, Shawn Seavers to sit down and talk with us about the new release.
Shawn has been in the gaming industry for more than a decade. He spent over seven years with Nintendo and another two working in mobile gaming before coming to Big Fish Games. Shawn served as the producer for Mystery Case Files: MillionHeir.
Tell us about MCF: MillionHeir
Mystery Case Files: MillionHeir is the first Mystery Case Files game made for the Nintendo DS. It's entirely new and was designed specifically for the Nintendo DS from the ground up. It's a combination of all the previous Mystery Case Files games with all-new game-play elements that take advantage of the DS's Touch Screen and microphone.
Why the Nintendo DS?
We immediately saw some very unique opportunities for the Mystery Case Files franchise on the Nintendo DS. Besides portability, the Touch Screen is a unique game-play element that we felt was perfect for the hidden-object genre.
What was it like working with Nintendo?
Nintendo is one of the premier game developers in the world and it was exciting to collaborate with them throughout the entire process. It was pretty neat to work with the company that created Mario, Zelda, and all the other successful Nintendo franchises.
How does MillionHeir compare to other MCF games?
We actually started planning this game shortly after the release of Mystery Case Files: Prime Suspects so MillionHeir is heavily influenced by that game. But, if you look closely, you will see many things familiar to the Mystery Case Files universe. For example, there are a few puzzles that might remind you of the door puzzles in Ravenhearst. We also included "mini-location" scenes you zoom in on – a style of game-play introduced in Madame Fate. Of course, there are game-play elements that are only found on the DS as well. All together, I think MillionHeir is a really entertaining mix of all the best aspects of the current MCF games.
Set up the story for us.
In the game, an eccentric millionaire, Phil T. Rich, has gone missing, and it's up to you to find out what's happened to him. You'll investigate twelve people known to associate with Phil who have been identified as suspects. In true Mystery Case Files fashion, you solve mini-puzzles and search locations for hidden objects. Find those objects to find out more about the mystery
Are there any Easter Eggs in the game?
No game is complete without a few Easter Eggs! Without giving anything away, let's just say if you look closely, 'the future will be clear to you' (laughs). There are others, too, but you'll just have to poke around to find them.
From start to finish, how long did the project take?
Surprisingly, talks began all the way back in 2006. The project itself began in earnest in early 2007.
Can you describe the process of how a scene goes from an idea to the finished product?
For each MillionHeir scene, we basically started with a sketch…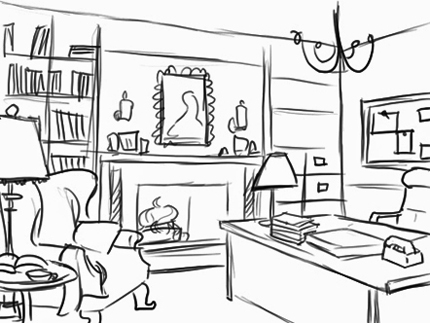 …we then defined certain areas that might be interactive…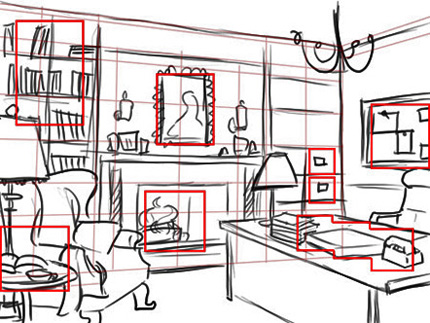 …then we added textures…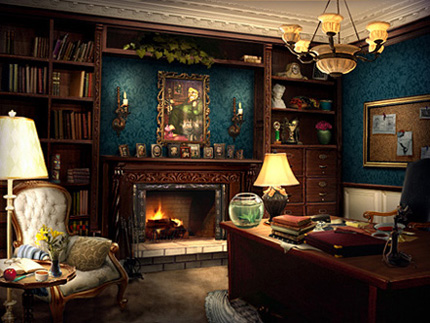 …and one final pass for lighting and other touches…voila!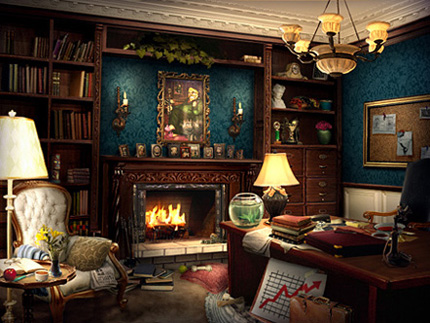 Thanks, Shawn!
No problem. Happy to chat.