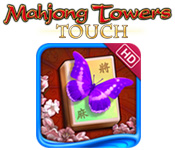 Nearly 6 years to the day after Big Fish Games released the most popular Mahjong solitaire game of all time, Mahjong Towers Eternity, we are excited and proud to announce the sequel has finally arrived with Mahjong Towers Touch HD.
This game lends itself perfect to the iPad device, allowing users to select individual tiles with a single touch. No more mousing and clicking. Simply tap the tiles with your fingers and watch them fade away.
It truly is a masterpiece; hand crafted by the mahjong lovers in Big Fish Studios.
Key Gameplay Features
We wanted to take a minute to call out what sets Mahjong Towers Touch gameplay apart.
1. Create your perfect game
This new installation of Mahjong Towers Touch HD features over 190 layouts, 12 master layouts, 26 different tile sets and 7 high quality musical tracks, allowing users to easily customize the game to their own preference. Create a relaxing environment to get lost in your own mahjong world.
2. Exclusive Features
Play mahjong like never before. With unique features such as dynamic undo, tile reveal, and shake to shuffle, Mahjong Towers Touch HD will soon become your favorite mahjong game on the iPad.
3. Continue Mastering Mahjong
With progressive game play, make your way through 15 different Zodiac themed level packs and unlock a hidden Zodiac box for bonus content. Earn extra points with improved skill and unused hints to earn the highest rank at each level.
4. Game Center Integration
Bring out your competitive mahjong side with Game Center Integration. Earn reward points and check out leader boards as you compete against your new friends for the top honor of Mahjong Towers Touch HD.
Screenshots