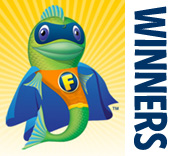 We're happy to announce the winners from the third week of our March Super Sweepstakes!
If you think it's fun entering sweepstakes, you should try running sweepstakes. We're having a blast reading postcards, skinning laptops, and packing up prizes. We've even had the opportunity to speak to a few of our winners – you know who you are!
Drop in on the official Super Sweepstakes page to see this week's glorious winners.
Be sure to be a part of the sweepstakes before your time is up and congratulations again to all our winners.