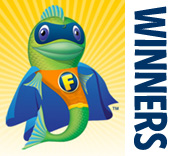 Holy smokes, we're on to our fourth week of Super Sweepstakes winners and the prizes now include MacBook Airs — wow! Alas, no PlayWrite gaming tablets are being offered…
We have to take a moment to tell you just how much fun we've had talking to our winners (for some prizes we actually call winners on the phone). Here's what Cyrena D of Vicksburg, MS had to say:
"I'm almost a half a century old, and I believe this is the very first time I've won anything, so I'm very excited about that!!"
Way to go Cyrena!
Want to see who else won? Take a quick trip over to our Super Sweepstakes page to see this week's lucky winners.
We love giving away prizes almost as much as you like winning them. Be sure to qualify for the sweepstakes as week 5 is the final week to win!