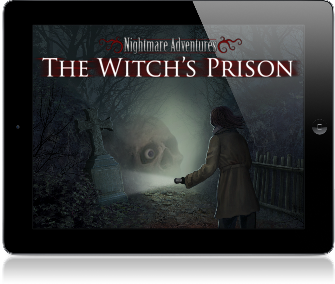 We're very happy to announce the release of Nightmare Adventures: The Witch's Prison HD on iPad and iPhone.
Join Kiera on her quest to find out the history of her ancestors at the Blackwater Asylum. Things quickly become suspicious when she meets Alton Quinn who first contacted her about her family history. Poke around the grounds of the asylum and help Kiera discover the truth.
Beautifully converted for the iPad and iPhone, become immersed in the mystery of Kiera.
Key Gameplay Features
We wanted to take a minute to list what makes this game so much fun.
1. Eerie Setting
Get lost in the twists and turns of the Blackwater Asylum as you follow Kiera through her journey of graveyards and cabins.
2. Solve the Riddles
Uncover the truth through cunning riddles and poems left behind by the Wystwick family as you navigate hidden object scenes and locked puzzle doors.
3. Gamecenter Integration
Play against your friends and see who can unlock the secrets of Blackwater Asylum first with Gamecenter integration.