Word around the fish tank is that a complete remodel of the Big Fish Games Online Games section is coming soon. We put on our hard hats and ventured into the engineering zone to get a sneak peek at the new design from Product Manager Gina Lopez. Shhh, don't tell – we brought back screenshots!
First off, the Online Games section is getting a new orange background to help distinguish it from downloadable games and the Game Community.
You'll also notice there are no more ads. Says Lopez, "We wanted players to be able to focus on the games. When I'm playing, banners are distracting. Removing the ads clears space on the page so we can emphasize the most important part of our site, games."
The new Online Games section will also add new genres to better represent the variety of games and make games easier to find. Lopez says, "Right now, we have some genres that are merged together. For example, Time Management games are currently lumped together with Arcade & Action games, and Match 3 games are in with Puzzle games. After the redesign, you'll be able to go straight to those genres (and more!) and get your favorite types of games faster."
The remodel will also showcase the top games from each genre on the home page. This means no more scrolling through a huge list of games. From the home page, you can get to new pages that show all of the games in each genre.
Online Games Home Page
The following screenshot shows the new Online Games home page in its final stages of development.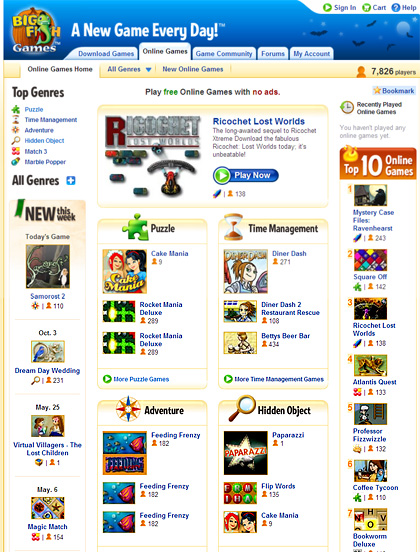 Online Games Genre Page
To help you find the games you are looking for, we are rolling out Game Genre pages like the one shown below.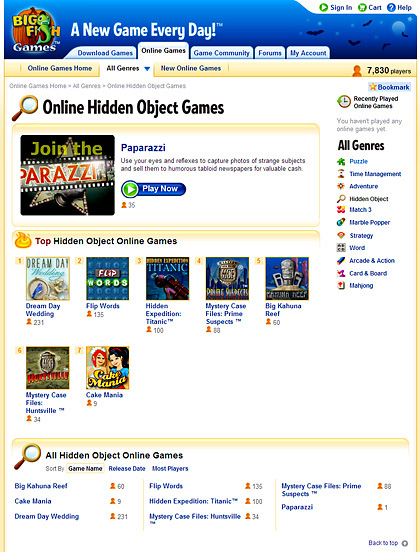 New Online Games Calendar
To help you keep up with new releases, all the new games for the past month will be displayed on the at-a-glance calendar page shown below.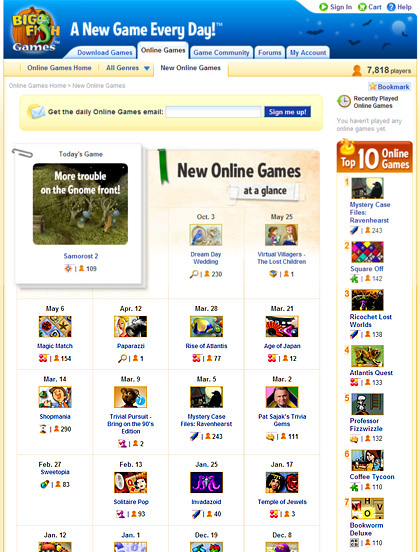 Finally, a new "Recently Played Online Games" list will display everything you've played recently, so you can get back to the games you liked right away.
When can you expect to see the changes? Lopez says, "Right now, we're targeting early November. We're wrapping up a few of the new features and putting on finishing touches now. We really think our players will like the changes we're making. Drop in to the Big Fish Games Forums and let us know what you think."