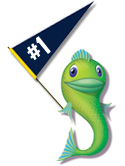 This summer, we will be sending out a free gift to our most passionate and loyal fans!
"The Biggest Fish" Award will arrive at your home sometime this summer in recognition of everything you've done for Big Fish Games over the years. You don't need to take any action – nothing is required from you. Just know we're working on it right now and look for your award to arrive in your mailbox sometime this summer.
Remember, "The Biggest Fish" Award is only being sent to long–time customers and Big Fish fans that buy lots and lots of games. We can't say exactly how we're defining who will win this award – it's a Big Fish secret. So no fair calling up Customer Service and asking them if you're on the list, because they don't even know who's getting it!
Look for "The Biggest Fish" Award soon…