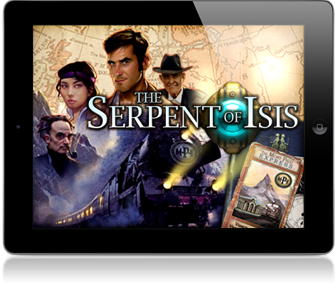 We're very happy to announce the release of The Serpent of Isis on iPad HD and iPhone.
In the early 1900′s the legendary artwork, the Serpent of Isis, was stolen at the grand opening of the Egypt Museum in Cairo. Originally discovered by your grandfather, you have been searching for the missing masterpiece your entire adult life. One day, a mysterious letter arrives indicating that the person who possesses the artwork can be found on board the Mont Palu Express. Catch the train and solve the ancient mystery!
Beautifully converted for the iPad and iPhone, prepare for an amazing adventure to Cairo!
Key Gameplay Features
We wanted to take a minute to list what makes this game so much fun.
Game Across Europe
Travel through six European destinations, including Bucharest, Vienna, London, & Paris.
Loads of Gameplay
10 Chapters, over 20 mini games, and multiple interactive scenes.
Gaming Modes
Timed or relaxed game modes.
Bonus Clues and Hints
Gain extra hints by finding hidden objects, bonus clues, and suspect items.
Multi-Layered Puzzles
Collect and combine inventory items to solve intriguing puzzles.
Integrated Help and Tips
Get help! 'How to Play' tutorial and hints.