You and your friends are about to embark on an epic golf solitaire adventure in Fairway Solitaire Blast!
Whether you use this document as a reference when things get difficult or as a road map to get you from beginning to end, we're pretty sure you'll find what you're looking for here.
We hope you find this information useful as you play your way through the game. Use the menu below to quickly jump to whatever stage of the game you need help with.
For technical trouble shooting on your iOS device, please see our FAQ.
Walkthrough Menu
Getting Started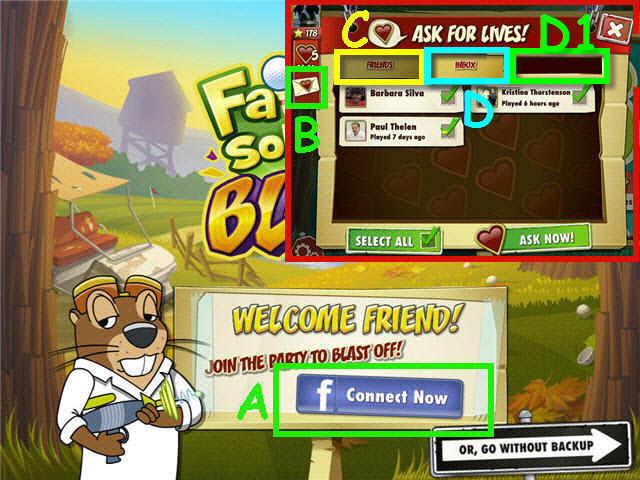 Connect to Facebook to get extra Lives from your friends (A).
Select the envelope (B) to bring up your friends list and collect your messages.
Select the Friends tab to request Lives (C).
Check your Inbox for messages (D).
Use the search box to type in a friend's name (D1).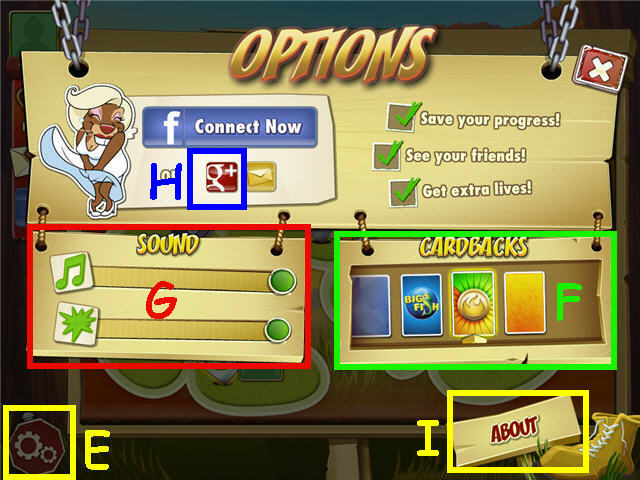 Select the gear icon (E) to access the settings.
You may select from various front and back of the card decks (F).
You may change the sound levels of the music and sound effects here (G).
You may connect with friends via Google+ here (H).
Select the About button (I) to access support.
Gameplay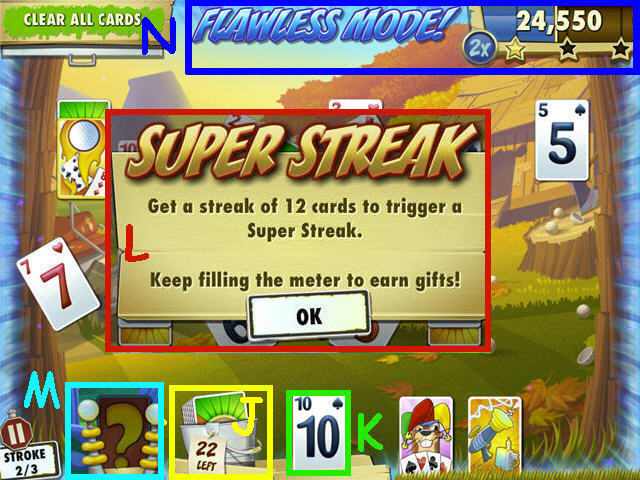 You will start each hole with a bucket of 30 cards; the number of remaining cards are noted here (J).
Select a card on the field that is higher or lower than the card in play (K).
Aces can be played on both a 2 and a King Card.
Survey all the face up cards; choose the cards that can create the longest string. If faced with multiple choices, select a card that is stacked above another card versus a standalone card.
A streak of twelve cards will trigger a Super Streak (L); receive points, extra cards, and other gifts for your accomplishment. You can view your progress in the meter next to the bucket (M).
You will trigger a Flawless Mode when you play 50 cards in a row without missing a playable card (N). Playing in Flawless Mode gives you double the point value of each card played after initiating the mode.
Draw a card from the bucket when you are unable to locate any more playable cards.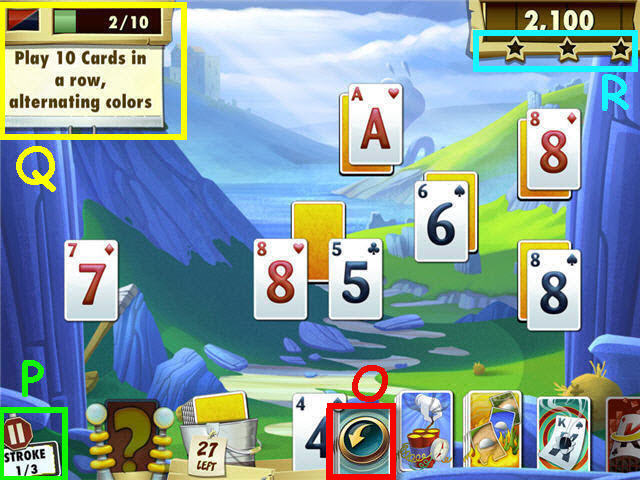 If you miss a playable card, any remaining card that could have been played will shake when you draw a card from the bucket; use a Mulligan to undo your last move (O).
All holes have three strokes; check what stroke you are on here (P).
All holes must be completed by clearing all cards from the field; additional goals for the hole are located in the upper left (Q).
Stars are awarded based upon your overall hole score (R). As long as you completed your goals, only one star is necessary to unlock the next hole. You will however, need to have a set number of stars to unlock the next course.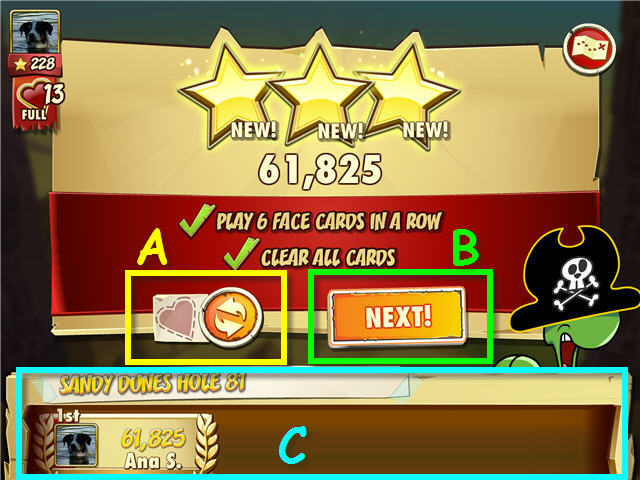 If you wish to improve your score you may choose to replay any hole by selecting Play Again (A); select Next to proceed to the next hole (B).
Connecting to Facebook or Google+ will allow you to see how you rank amongst your friends that are playing (C).
Power-Ups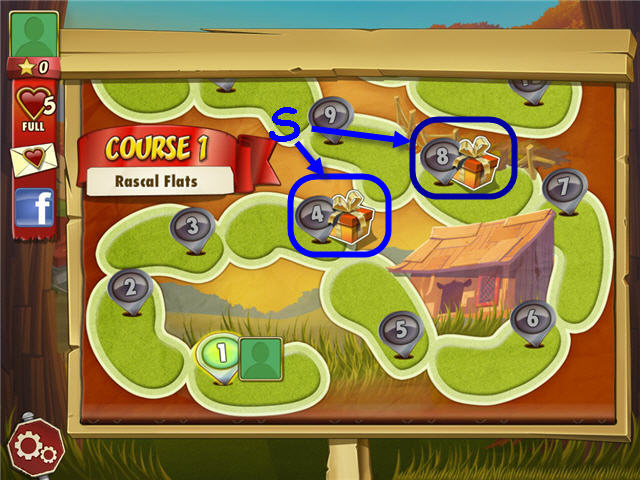 Holes with a present (S) will introduce a new Power-Up card.
You can only have one free Power-Up card on hand at one time. Use them as needed or you will lose the opportunity to gain another free one when it pops up; most holes that require a certain Power-Up in order to win will have one or more of them in the deck.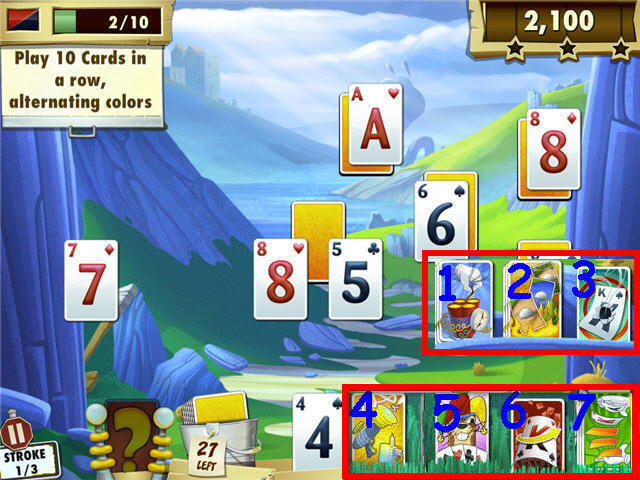 De-Fuser: Disables Critter Cards on the field (1).
Anti-Hazard: Removes all Hazards from the field (2).
Bullseye: Removes any face-up card of your choice (3).
Hot Line: Blasts off multiple cards on the field. If there are not many cards left and you have another stroke left, the blaster will continue to remove cards on the next stroke (4).
Joker's Wild: Turns any card of your choice on the field into the card in play (5).
Flip Side: Turns Hearts into Club, and Diamonds into Spades (6).
Shuffle: Shuffles all the cards on the field (7).
Critter Cards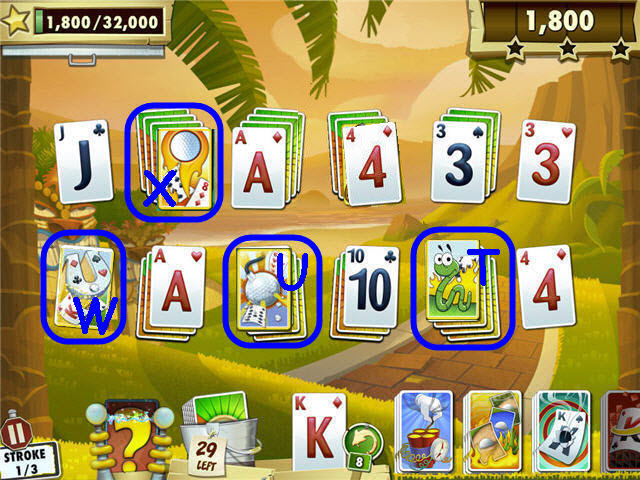 Critter Cards are bonus cards that assist you in clearing the field. Using a Critter Card near another Critter Card will trigger that card to also release it power if it is within its range of power. You do not need to be concerned that you will lose a Critter Cards power by blowing it up with another card.
You will automatically receive one or more additional Critter Cards when you complete a challenge.
Wormburner: The Wormburner moves horizontally; all playable cards in its path will be cleared (T).
Explosive Shot: Blows away all surrounding cards (U).
Lucky Bounce: The Lucky Bounce is a bouncing horseshoe that randomly removes cards or turns them into another Lucky Bounce card (W).
Skyball Bonus: Moves vertically, clearing all the cards in the column (X).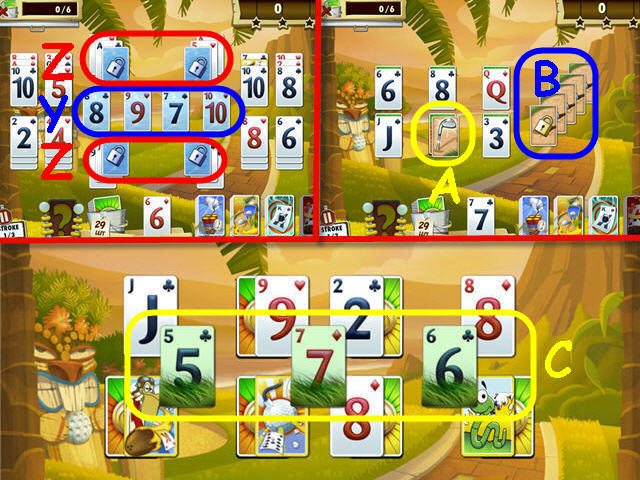 Water Hazards: Play all Water Cards (Y) to unlock the Water Hazards (Z).
Wedge: Playing the Wedge (A) unlocks the Sand Traps (B).
Rough: The Rough Cards (C) need to be played twice in order to clear them from the field.
Purchases, Upgrades, and Lives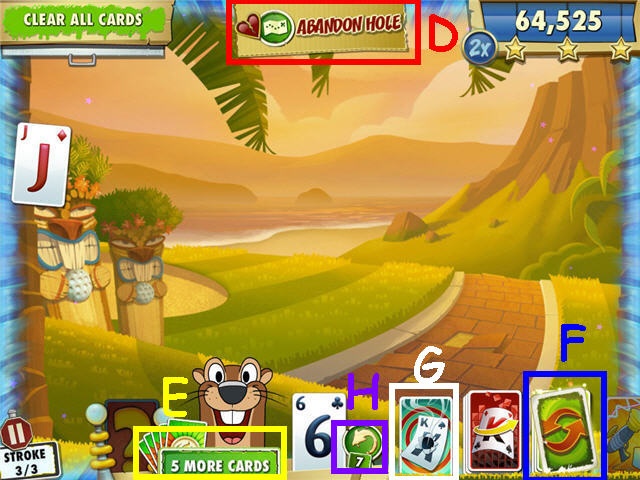 Abandoning a hole (D) will cost you a life. You will need to replay the hole if you abandon it.
Select the 5 More Cards button (E) to purchase 5 additional playable cards; this is particularly helpful if you have completed your primary goal and only need to clear a couple cards from the field to win the hole.
A free available Power-Up card will have sparkles around it (F).
Selecting a Power-Up without sparkles (G) will bring up the option to purchase additional ones. Purchased Power-Up cards will not have sparkles around them and will not prevent you from acquiring a free card.
Select the Mulligan button (H) to purchase additional ones.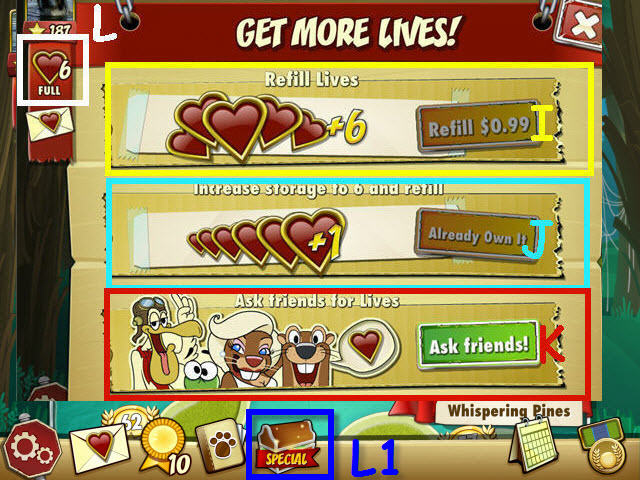 You may purchase a refill (I), add a permanent storage increase to 6 Lives (J), or ask friends for Lives (K), by selecting the heart (L).
When you collect Lives from friends, do not accept them until you run out or you will lose it.
Your Lives will automatically replenish after a short passage of time.
Select the chest for special deals on Power-Ups (L1).
If you are enjoying the game, please take a moment to rate the game when the option pops up.
Tournaments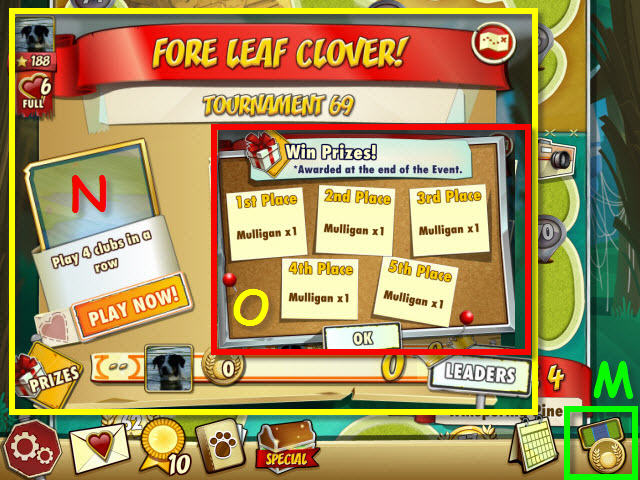 When there is a tournament available, you will see a medal in the lower right of the screen (M).
Select the medal and choose the available tournament (N).
You can win prizes at the end of the event (O).
Cheevos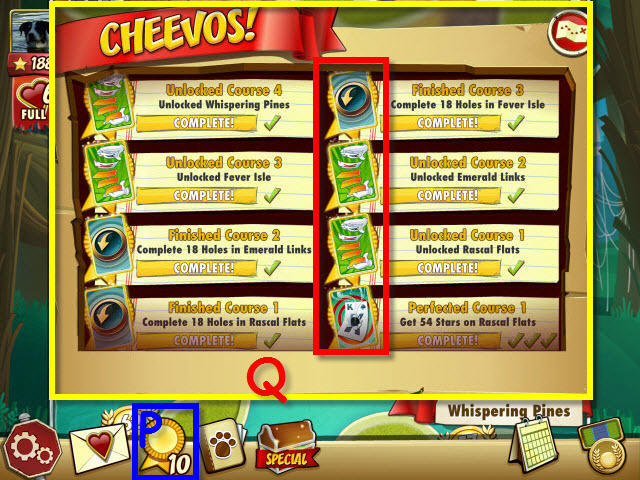 You will earn Cheevos for accomplishing different goals while playing.
The number next to the ribbon shows how many available Cheevos you have completed and available to collect (P).
Select the Cheevos to collect your Power-Up reward (Q).
Stick'ems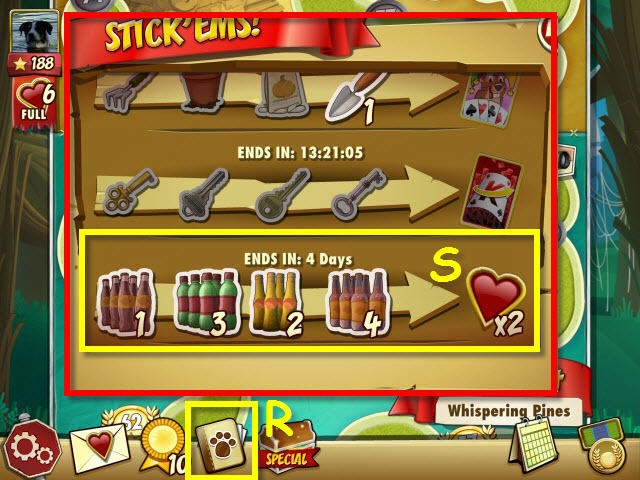 Stick'ems are collectible stickers you win during game play.
You can check out your progress by choosing the sticker book (R). The number next to the book lets you know how many completed sets you have.
Collect your reward (S).
Daily Mode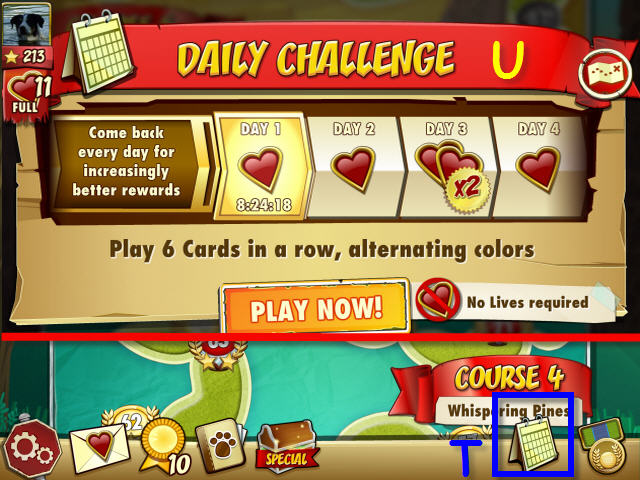 Daily Mode gives you a free hole to play every day (T).
The more days in a row that you play, the bigger the prizes you receive (U).
Jackpot Magic SlotsPlay these slot machines in the Jackpot Magic Slots app today!