Week in Review: May 13 – 19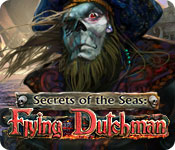 If you have a craving for pirates and adventure, this week brought "Secrets of the Seas: Flying Dutchman" and "Nightmares from the Deep: The Cursed Heart Collector's Edition."
If pirates are a little too rambunctious for your liking, you'll be able to relax and admire Japanese woodwork in "Shadomania." And if you're still not sure what kind of game you're in the mood for, take a look at the full list of this week's new releases and see if something catches your interest.
1. Secrets of the Seas: Flying Dutchman
Release date: May 13
If you are itching to explore one of the most notorious pirate ships to sail the seven seas, this Hidden Object game will take you there! Secrets of the Seas features challenging puzzles, hidden objects and adventure. Oh, and pirates. Everything is better with pirates! But, if pirates aren't enough to lure you onboard, the hand-painted look of the graphics will give you something pretty to look at as you're hunting for the the Flying Dutchman's secrets.
2. Dark Alleys: Penumbra Motel Collector's Edition
Release date: May 14
In Dark Alleys, you'll have to track down the mysterious stranger who kidnapped your daughter at Penumbra Motel. Uncover the motel's history of strange occurrences and murder, and find the secrets behind its dark history through a mixture of hidden object-finding and puzzle-solving action. The Collector's Edition includes bonus concept art, the game's original soundtrack as well as wallpapers and screensavers!
3. Marie Antoinette and the Disciples of Loki
Release date: May 15
This game offers something special for both history and hidden object lovers. Set in France in 1787, Marie Antoinette and the Disciples of Loki follows famous opera singer Josepha Duschek as she investigates a mysterious crime. You'll get to interact with famous characters based on people in history like Benjamin Franklin and, of course, Marie Antoinette. You'll learn a little history through the game's encyclopedia as you solve puzzles, brainteasers and find hidden objects.
4. Inspector Magnusson: Murder on the Titanic
Release date: May 15
Help professor Jakob Magnusson uncover the truth behind the murder of Charles Taylor, a coal tender on board the famous RMS Titanic. The game features 28 hidden object scenes and a range of puzzles you'll need to solve. Inspector Magnusson takes you back to the classic murder-mystery story and offers a little speculative history thrown in. If you're fascinated by the Titanic, or just love traditional hidden object gameplay, Inspector Magnusson delivers a good dose of both! You'll need to hunt for clues and explore the ship to solve the murder and uncover the truth behind the Titanic's unfortunate fate.
Release date: May 16
This tower defense strategy game has you defending an island against the Dark Fleet, which has its eyes set on on the seven citadels. You will need to strategically build towers and upgrade them in order to prevent the Dark Fleet ships from reaching their goal. Island Defense adds a little extra challenge to the tower defense genre by letting enemy ships fire back! You'll have to keep your towers in good condition to successfully defeat the Dark Fleet.
6. Shadomania
Release date: May 17
If you're in the mood for something a little more relaxing, Shadomania may be able to calm your nerves. This Jigsaw Puzzle Game features designs of Japanese woodblock prints, which you'll have to piece back together. This game combines beauty and relaxation with light brain exercise.
7. Nightmares from the Deep: The Cursed Heart Collector's Edition
Release date: May 18
If you couldn't get enough pirate adventure this week, we've got a little more for you! Nightmares from the Deep puts you in the place of a courageous museum owner. You'll have to rescue your daughter from an undead pirate before he uses her to resurrect his long lost love! The Collector's Edition includes bonus gameplay content, the game's soundtrack, concept art and HD wallpapers.
8. Puppetshow: Return to Joyville
Release date: May 19
Puppetshow delivers hidden object fun, perplexing puzzles and suspenseful adventure. Travel back in time to uncover the series of events that led to a horrible fire that twisted Felicia's mind and consumed her father's theater. You'll need to find objects to uncover the truth and give Felicia a chance at redemption. The game features detailed graphics, and, if it sounds like you won't be able to get enough, the Collector's Edition has bonus gameplay and an integrated Strategy Guide to help you save Felicia.