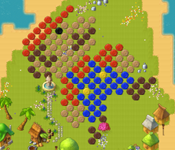 In keeping with the Super Mario Bros' 25th Anniversary celebration, we're happy to report a recent discovery in the world of My Tribe.
Possibly in need of some sun (and a break from battling Bowser!), Mario was found relaxing in plain sight on one of the many My Tribe islands.
While we're pretty sure you're familiar with Super Mario Bros', if you are unfamiliar with My Tribe, it is one of three great games we have launched on Facebook (the other two being Faunasphere and Treasure Quest).
If you haven't already, we hope you'll join us in My Tribe and let your own creativity run wild. After all, what's Mario without Princess Peach?