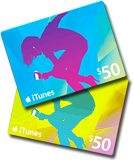 To help celebrate the success of Nick Chase: A Detective Story for the iPhone and iPod touch and the subsequent $0.99 sale, we're giving away two (2) $50 iTunes gift cards. All you have to do is go get Nick Chase: A Detective Story from the iTunes App Store and sign up for the Big Fish Games' iSplash Newsletter. We'll choose two lucky winners at random from everyone who signs up for iSplash.
The contest starts today and ends Sunday at 11:59pm so make sure you get over to iTunes before it's too late.
How to Enter the Contest
Step 1: Head over to the iTunes App Store and get Nic Chase: A Detective Story.
Step 2: You'll see the "iSplash Newsletter" sign up icon on the Nick Chase title screen (see below). Just click on the iSplash Newsletter icon and follow the instructions to send us an email and you're entered in the drawing for the iTunes gift certificates!
Remember, Nick Chase is on sale for only $0.99, but that won't last forever. Get it on the cheap today!
A Word From the Producer
We were lucky enough to get the Producer of Nick Chase to swing by and share his thoughts about the game.

"A big part of Nick Chases charm is derived from its classic detective narrative, beautifully conveyed in graphic art and professional voice acting. As soon as we saw the prototypes of the comic strips panning across the screen with synchronized speech we knew we were onto something special!

The game immerses you in a fabulous film noir adventure, each puzzle in the game is uniquely crafted to support the narrative. You'll find yourself cooking up forensics in the lab, lock picking, forging ID's, each challenge complimented by a host of multi-touch controls. Our developer Pick Up and Play did a first rate job on the interface – I'm still dazzled by all the effects they managed to cram in!" – Max Thornton, Big Fish Games Producer
Best of luck! (Legal info)