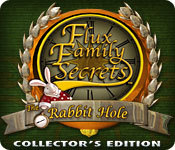 Announcing Flux Family Secrets ™: The Rabbit Hole – the first true high definition hidden object puzzle adventure game. Players with HD capable monitors and video cards can enjoy four display modes that show every detail needed to find craftily hidden objects.
The Collector's Edition includes six bonus missions also presented in HD, wallpapers, concept art, a screensaver, a strategy guide and MP3s of the game's soundtrack. Flux Family Secrets: The Rabbit Hole is the second game in the Flux Family Secrets series produced and published by Big Fish Games and developed by Skunk Studios.
In this sequel to the original Flux Family Secrets, Jesse, the main character, returns to the Flux mansion after thwarting the efforts of her nemesis, Veronica, only this time it's 30 years in the past! With the help of an unsuspecting ally, Jesse learns that to return to present day, she'll need to venture further into the past to correct what went wrong. As she goes deeper into the rabbit hole, she uncovers more about her family and the machines that enable them to travel through time.
Download and play Flux Family Secrets ™: The Rabbit Hole!