Mystery Legends: The Phantom of the Opera
Exclusive
The ruins of the opera house stand as a tomb to unrequited love. Though long abandoned, an undying ghost still wanders its halls, plotting the return of his heart's desire. Discover the history that haunts the opera house and face all of its challenges. Confront the man behind the mask and complete the final act in Mystery Legends: Phantom of the Opera, a fantastic Hidden Object Puzzle Adventure game!
Gorgeous gameplay
Classic love story
For a more in depth experience, check out the Collector's Edition
Game System Requirements:
OS:

10.5

CPU:

1.0 GHz (INTEL ONLY)

RAM:

1024 MB

Hard Drive:

341 MB
Game Manager System Requirements:
Browser:

Safari 4.0 or later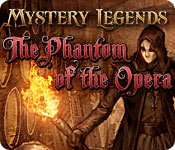 NEW299
The Big Fish Guarantee:
Quality tested and virus free.
No ads, no adware, no spyware.

Reviews at a Glance

Mystery Legends: The Phantom of the Opera
0
out of
5 (
0
Reviews
Review
)
Customer Reviews
Mystery Legends: The Phantom of the Opera
87
87
Take that black rose and shove it!
I'm not quite sure why I didn't like this game. It has a lot of the elements that make a great game. Nevertheless, it somehow lost my interest about half way through and dragged out to an ending that couldn't come fast enough. (I hate leaving games unfinished) It's not a bad game, I just got bored with it and the phantom. I'd pass on this one, and purchased Beauty and the Beast instead, which is hands down the best game out of the Mystery Legends Series.
April 2, 2012
So close to being excellent
I think this is a good game--not very good, or excellent. If you like HO/Adventure games and you don't have anything else to do, this might be a good game for you. The story is just what you would expect. You are travelling with you parents to the city where your mother was once a great opera star. The Phantom kidnaps you and takes you to the old theatre. Etc. The ending is a bit weak, but sets up for the sequel. The graphics are wonderful, as are the voice overs (not skippable# and sound effects. The play area is very large. Many, many rooms to explore. Mini games are generally easy enough--they just take time. One #finding the constellation# was impossible for me, even when I figured out what I was looking for. I finally lucked into the correct solution. Fortunately, some minigames are skippable. Here are the problems. There are a lot of difficult HO scenes #not interactive#. They are very cluttered and, while not impossible, not much fun, for me. For most of the game, I didn't have much trouble finding my way around, but things changed towards the end. You will wear out a few pairs of shoes back-tracking and returning. There is a map #not interactive# that lets you know where actions are still needed. Without that, I don't think I would have ever finished. Pay attention to the notes that get put into your journal. You will need that information to solve some problems. Also, it will help if you know more about music than I do. I didn't know what some of the HO items were. Also, there are a few obscure items #involving math and ancient history) to find. I think it took me about 3.5 hours of game play to complete. It felt like it took a lot longer. I am going to recommend this game because it had some good points and others might not find the HO scenes as tedious as I did.
March 25, 2012
Don't Believe the Hype
Based on reviews I say here and other sites, I would have thought this was the best HOG ever made. It's not. It's ok. On the positive side, it has many levels and a lot to do on every screen. On the down side, the amount of back-tracking and to and fro I had to do to get somewhere became annoying. It was one of those games that you find yourself tired of playing 2/3 of the way through but you finish because you don't want to waste the money. The music was so-so and the phantom was more annoying than anything. I was also aggrevated by the fact that I couldn't get to the bonus stage once completed (I'm still not sure why). In the end, there are many better games to spend the money on than this one.
February 1, 2012
Got bored with the game
I wish I could have enjoyed this game as much as others have but honestly I never finished it; I got bored before I got close to the finish. Yes, it had fabulous graphics & was atmospheric with good music & voiceovers. However the hidden object scenes were really cluttered, normally I would put up with this if the game is enjoyable but it just added to my dislike. The hint button was not a lot of use so I spent a great deal of time wandering around aimlessly wondering what to do next & in the end I couldn?t be bothered to go back through all the scenes yet again.
November 28, 2011
Didn't Like It
I really struggled to like this game. Good Parts: Good graphics. Really detailed and well designed. Good Storyline. Great voice-overs, great plot. Just needs a little bit more tweaking. No need for a strategy guide. It's pretty obvious what to do. OK Parts: Tutorial was good, but there was no option to turn it off. Bad Parts: The hint recharge was very slow The game in general was not fun The Hidden Object Scenes. The Hidden Objects were very hard to find. I also would've liked to see interactive Hidden Objects. Overall, for such a great intro, the game is a real disappointment. I don't think it's worth buying.
June 24, 2012
Tacky adaptation of the "Phantom" story
I wanted to like this game, solely for the reason that I am an unashamed fan of Gaston Leroux's original novel. Enjoying Hidden Object games doesn't hurt either. While I grudgingly award this game two stars purely because it is by nature a HO game, the other components are insultingly bad! You'd think any game set inside an opera house would be good, but this one is not. The storyline is so utterly ridiculous, and as other reviewers have noted, the ending is disappointing and inconclusive. Like movies, I have a hard time enjoying something if I can't get into the story. The visuals are pretty good, but why on earth is the opera house dilapidated and for all intents and purposes frozen? And what was with the little cottage in the snow? I honestly felt like I was in Narnia rather than Paris. The music was odd, and the all-too American-sounding accents of the characters just made it feel too modern. The only good thing was the ambient sound. But what really bothered me was the Phantom himself. Why do they have him making bizarre interjections throughout the game, and why does he look like a rock musician/serial killer? Weird. The puzzles and quests were fun, but didn't really strike me as having a lot to do with the operatic theme. Overall, there were too many things about this game that I disliked to induce me to add this one to my collection. One can only hope that BigFish decides to make a true "Phantom" game in the style of "The Yellow Room", which I thoroughly enjoyed and infinitely prefer to this fiasco.
January 4, 2014
Sort of fizzled....
Well, I've played my share of Big Fish games, and this is my first review. The graphics are great, the music and atmosphere perfect. Unfortunately, that's the end of my positive review. The less than positive: There was no rhyme nor reason on what to do next, or where to go. Therefore you must retrace your steps to every single room to find a HOG. The ending was a non-ending; more like a cliffhanger in hopes of a sequel. Very anti-climatic. Perhaps the ending is included in the Collectors' version.
November 26, 2014
Phantom of the Opera should stay dead
The puzzles are great, but the wandering back and forth, through sometime 20 rooms is just tedious. I printed out a map, filled in the rooms, and kept a notebook of where things were. The map with the journal wasn't a lot of help. Then, when I get to the end, it is only the 1st part of the story! I don't think they should do that unless the 2nd part is completed at the same time. However, many years after the first, there is no 2nd, so I am left with an incomplete story on a game that I've been forcing myself to finish as I paid for it.
November 8, 2014
I couldn't play because of the HOs
I really wanted to give this game a go but had to stop the trial early because of the horribly TINY objects and overly crowded HOs. whew! giving me eyes a break now.........
October 11, 2013
Really disappointing
Having read the great reviews and loved 'beauty and the beast', I had high expectations of this game. I played the demo for only 18 minutes and did not like it at all. The music was irritating and whilst I normally mute it, other reviewers have warned not to otherwise clues are missed and it would have driven me mad. The graphics were also poor, very dark and not pleasing on the eye at all. The couple of HOS I did were also very dark. As my title said.....very disappointed!
March 30, 2012
The Apple logo is a trademark of Apple Computer, Inc.
The Windows logo is a trademark of Microsoft, Inc.