Fiction Fixers: The Curse of OZ
The Land of Oz is in great peril. An evil man has erected towers that consume the people, light, and energy of Oz itself. Protect Dorothy and Toto as they travel across Oz in hopes of finding a way home to Kansas. Team up with the Scarecrow, the Tinman, and the Lion and use their powers to overcome great obstacles. Beware of the Wicked Witch and Victor Vile! It's up to you to save Dorothy and the Land of Oz in Fiction Fixers: The Curse of Oz, a fun Hidden Object Puzzle Adventure game.
Colorful characters
Exciting storyline
Save Oz from Victor Vile!
Game System Requirements:
OS:

Windows XP/Vista/7/8

CPU:

1.0 GHz

RAM:

512 MB

DirectX:

9.0

Hard Drive:

435 MB
Game Manager System Requirements:
Browser:

Internet Explorer 7 or later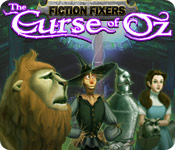 NEW299
The Big Fish Guarantee:
Quality tested and virus free.
No ads, no adware, no spyware.

Reviews at a Glance

Fiction Fixers: The Curse of OZ
0
out of
5 (
0
Reviews
Review
)
Customer Reviews
Fiction Fixers: The Curse of OZ
32
32
Entertaining
A funny game, with variation of challenges.
November 16, 2011
A decent game based on the story
This is definitely one of those games that you play to pass the time and not use a lot of brain power. That being said... I liked this game. It is a bit on the short side, but the storyline and graphics make up for it. The voice acting was good, and I am glad for the voice overs. There was also some humor in the dialog. The graphics were superb. As for the game itself, it was a bit on the easy side. There is almost no need for a walkthrough (although, I did need it at one point because I didn't realize that I had missed a step), and the map tells you where all the hidden object scenes are when they are active. TIP: when you get to an HO scene, try to memorize as many of the objects as you can, because each time you return to the scene, their placement never changes. There are a few mini games here and there, but those are pretty simple as well once you get the hang of it. I also like the fact that you can use the characters for their special abilities as well. The game is pretty linear and you only return to a scene no more than twice. Overall, it is a good game for those who enjoy the Wizard of Oz story.
April 27, 2012
Fun but short....
Well worth the DD price.... As stated before, great for Oz and HO fans. The HO scenes, tho mostly junk piles (but not always) were still pretty easy. There was a little too much HO for me, but I still enjoyed the game. The graphics are clear and the items fairly easy to find. However, if they're going to include HO's, I prefer that all the items pertain to the game being played and the time period in history, that their size is appropriate, and that they aren't just piles of junk -- but that's very rare, so I'll just dream on about it.... ;) I consider myself an "intermediate" game player, but didn't require the walkthru for this one at all - I was able to go through the entire game (reading everything as I went along, as always) in short order (a bit too short) and with only a few hints. I appreciated the map but wish it was interactive (sigh). Also, love when they tell you the scene is complete. Very little running around - rarely have to backtrack more than a couple scenes, which I also appreciate. The puzzles are good ones, but again, not terribly challenging. They DO make you use your brain, but they don't fry it.... ;) If you're not a fan of Oz, don't like witches & evil sorcerers, or want a real challenge from your games -- this one's not for you. However, if you prefer a more relaxing game that still requires your attention, you'll probably enjoy it. Overall, I enjoyed the game. My only caution is that, due to how short it is, you might want to wait and get it on sale...
April 21, 2012
Easy HOG. Cute story line adapted with a small twist.
This is great for beginners into the world of Hidden Object Game or HOG. The storyline is close to the original Wizard of OZ. I liked the characters but the graphics were not as bright as I expected..though the darkness did set the tone which could have been done with music alone. It did not seem to scare my three year old grand daughter, who watched me play for an hour. She seemed impressed by the crows being scared by the lion.
May 22, 2012
Relaxed, for casual gamers.
It is a nice relaxed game for people who like casual games - people who just want to have a good time, not sweat it out trying to solve thigns, as if they did not have enough of that in their reail life. It is just HOS one after the other, and for al ong while the HOS are monochrome. Of course that is a plot point, because once the curse is lifted all color returns. (when the wizard's castle turns green again, you should go back all through the claread areas, to enjoy how they look - the poppy field which had blue-gray flowers suddenly is red again# Still, it can be too much. The hint system is decent, and they tell you when an area is clear, which mieans you don't have to go back. The map does not teleport, but since you never more ahead more than four areas at most, it is no big problem. The storyline is fun enough, based as it is on the old classic #only that the scarecrow, woodman, and lion are given specific tasks to do) If you want some nice, fun, uncomplicated game that will make you feel better, this is it.
September 18, 2013
Beginners and Wizard of Oz fans will probably enjoy this the most
Don't expect to see the MGM film version of the story here as this game is based on the original novel so you won't see the pretty Munchkinland either. Although the artwork is very well drawn, the colors are drab and dreary before you get to the Emerald City. There are many hidden object scenes but they're very easy and are not junkpiles. During subsequent visits to previous HO scenes, you'll find all the items in the same locations so finding new ones are very easy and fun. You also get to find pieces of objects strewn about several locations that combine to make an object you'll need later. Puzzles are of the type of sliders, turning on lights, conneting circuits and are nothing we haven't seen before but they are fun and easy to do. They're also all skippable for those who don't like them. Your map is not transportive but it tells you which areas still have things to do and which are complete. A nice aspect of the game is that you'll also be told when a certain scene is complete so backtracking is minimal. The hint button is helpful and fills quickly. The only complaint I have is that I think the voice actors were poorly matched for their characters. To me, they sounded terrible and not endearing at all like those from the movie. I just think better sounding voices could have been chosen to make them seem more believable. The Vile shadowman had probably the most appropriate voice. Being as the game is very easy, this is best reserved for beginners or fans of the Wizard of Oz like myself. The game is pretty short overall, having completed it in 3 hours and 18 minutes, but for the Wizard of Oz fan, I think it makes for an enjoyable excursion.
April 4, 2013
Short but good
More true to the original story than the movie, this short (less than 3 hours for me) game is none the less very entertaining. Fully voice acted, very good graphics, widescreen,
April 21, 2012
Very Cute Game
I really enjoyed this game. It was quite simple, but I enjoyed the HOS's, the puzzles, and the storyline. The characters were cute, and I liked the way they interacted in the completion of the story, even though I felt they could have been used more.
December 14, 2012
VERY ENJOYABLE
Although this game's story line may seem a little juvenile, the game itself was very enjoyable. There wasn't too much back and forth, the HOS and mini-games were not too hard but hard enough, and the story line flowed well. Not a real challenging game, but a relaxing and enjoyable time spent playing. I think the voices were excellent.
August 11, 2012
Good Beginners Game
I had planned to buy "Fiction Fixers: The Curse of Oz" now it was a DD, but luckily I played the trial first... Not that it is a bad game, it is just way to easy for me. Although I'm normally a really really slow player, I played through a good deal more than half of the available map in the one hour trial. That's why it would be a really good beginners game! There is a nice introduction as to how to play the game, that you can't skip. I always play on a hard level without handholding, but in this game there is no escape. You play through the storyline from the original book, of course with the addition of Victor Vile. You find fragmented objects to use on your way along the Yellow Brick Road. They are always in your current scene and just a couple of the ones you've just been through, so there is not too much running back and forth. There are also hidden object scenes scattered about. These are really really easy clutter scenes, though I must admit it gets closer to the normal challenge level later in the game. There are some minigames but not many. They are the usual, like lighting lamps in the right order. They had something new though. As you meet the characters from the book and they join you, they will add skills you can use. That's a nice idea from the developers :-) Almost like in the oldtime RPGs. I would say that if you are an experienced player then don't buy this, not even if you like Oz. If you are a beginner and you find the idea of going into the story from the book (and I guess you are, or you wouldn't be reading this :-) then go right ahead! It will give you a very good introduction both to FROGs and HOGs
April 22, 2012
The Apple logo is a trademark of Apple Computer, Inc.