Art of Murder: Cards of Destiny
A mysterious package begins an epic duel of minds between FBI agent Nicole Bonnet and a ruthless serial killer, who leaves playing cards by the bodies of his victims as signature. Does Nicole have what it takes to understand the mind of a psychopath, as complicated as his puzzles? If not, she might end up as his next trophy in Art of Murder: Cards of Destiny! Find crucial clues in gorgeous Hidden Object scenes and stop the murderer! Warning: Art of Murder: Cards of Destiny contains some graphic content.
Thrilling adventure
Perplexing puzzles
Stop a serial killer!
Game System Requirements:
OS:

Windows XP/Vista/7/8

CPU:

2.0 GHz

RAM:

512 MB

DirectX:

9.0

Hard Drive:

2201 MB
Game Manager System Requirements:
Browser:

Internet Explorer 7 or later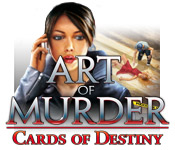 NEW299
The Big Fish Guarantee:
Quality tested and virus free.
No ads, no adware, no spyware.

Reviews at a Glance

Art of Murder: Cards of Destiny
0
out of
5 (
0
Reviews
Review
)
Customer Reviews
Art of Murder: Cards of Destiny
12
12
Another Art of Murder Hit
Art of Murder Investigations are never simple but always enthralling. This installment is no exception to the rule. The storyline is, again like always in the series, quite gripping and realistic. What I like in those investigations is not solely the investigation per se, that you conduct virtually as you would conduct one in real life, but also the logic behind everything little thing. I also like them because they never babysit you, they never lead you by the hand and tell you "You need to go there". No. You are alone with your intelligence, your wits, your logic. I like visiting locations in any order and thinking deeply about what I need to do next, about how I am to use this or that object. I also like the absence of these sempiternal HO Scenes in which you are tasked with finding artichokes, rubber ducks, umbrellas and other useless nonsense of like kind. In Cards of Destiny, the graphics are superb, the atmosphere gloomy, the tasks numerous, the locales to explore in good number and diversified, and the puzzles original and challenging. The high quality of the voice-overs and soundtrack turn this investigation into a truly immersive one. Yes, I am a fan of Nicole, as I am a fan of Nancy [Drew] and an adept of Large Files. And no, I am not exaggerating when I assert that the Art of Murder Series is top-notch and worth playing. Highly recommended. Note: I didn't see any bugs or glitches.
January 2, 2012
Excellent Adventure Game
Now, maybe I'm biased, but I'm a big fan of the older style point and click adventure games. "Art of Murder: Cards of Destiny" didn't fail to disappoint me at all. With an interesting storyline and many places to explore, this was only made better by the sound quality/voices that were added. I did find some of the repetitive lines you get when you click on the same thing over and over annoying, but they weren't overly so. Although I did enjoy the puzzles, and for the most part had no trouble with them, there were several which were much more challenging, requiring a lot more time spent. However, as walkthroughs are available for the game, they aren't impossible to get past. I didn't notice many bugs while playing the game, which was a big relief. My game did get stuck loading a couple of scenes on occasion, but I was able to fix them by minimizing the game, and then re-entering it. Overall, I was very impressed.
November 21, 2011
Best Art of Murder yet!
I loved the first 2 'proper' AOM games although some of the timed sequences were very frustrating and some of the dialogue repetitive and irritating. I was thoroughly disappointed with the 2 hidden object versions but th is game rates in one of my top 10 all time favourite games. The challenges appeared to be easier than previous - which suited me fine. The storyline was great, graphics great and the length of the game was far longer than many I have played. This is definitely my kind of game - interesting and challenging point and click adventure without being so difficult that I have to give up. 9.5 out of 10 in my personal favourites!
May 22, 2012
Cards of Destiny
Great game, I think this one is the one out the others that I enjoyed more can't wait for the next one. Graphics where great and in detail, some of the challenges were very interesting to work out, if you love point and click games, you WILL enjoy this one.
February 14, 2012
Mixed Emotions
At first it seems like there's so much to like about this game: Namely the professional voice-overs, great graphics, expansive locations, detective angle and old school feel. But what drags it down is just how far the author goes assuming we the players care to make absurd leaps of faith. While I really like the old school aspect of having the the main character talk about objects when you click on them with the "eye" icon, and the ability to combine objects in inventory, at times the game bogs you down with no where to go and nothing to do. An example is in the theater. Some of the challenges which quickly turned to aggravation include: What at first seemed like simple swapping of good and bad lightbulbs became confusing. Why? Because once it seemed the task was complete, the game kept letting you open the projector again and again. If I completed the objective, why not be like every other normal game, and STOP allowing me to open the projector? Then there's the HINT system. Literally a question ? mark which shows you all the possibilities on a given screen. Many times I found myself going online for the walkthrough. Another example of crazy objectives... At one point you're supposed to raise (or lower) the projection screen. This takes place in a back room via a crank. At first, you're not sure which way the crank is supposed to go, or if it matters. Then once you've spun it around a few times, nothing happens. Then after roaming around the theater a few more times hitting dead ends, you finally go back and crank it some more. Finally you hear a noise- Oh, the screen is moving ok, but now what. Well, for some reason they thought it was a good idea to have you combine the BRICKS with the BUCKET in inventory and hang the bucket on the crank handle to keep the sceen in place!!! SERIOUSLY?!! It's this linear approach of consistently hitting one dead end after another, with no hope of proceeding that kept me more aggravated than entertained. And yes of course I really like being challenged and stumped, but not plain annoyed. Who would find any fun in that.
December 24, 2012
Again a perfect Art of Murder game!
This is the 3rd Art of Murder game I bought and just finnished playing. I could not stop. I played it for hours! I realy hope there is going to be a new one! ABSOLUTE FANTASTIC. No HOS! Just think like a detective!
May 22, 2012
One Of The Most Exciting Games BIG FISH has ever offered!
This brilliant effort by City Interactive is a real gray matter flattener! The game has Nicole Bonnet, an FBI Investigator Par Excellence, on the trail of a brutal serial killer who likes to leave calling cards in the form of playing cards, and who is quite ingenious in his methodology. His traps and puzzles are among the most sophisticated I have encountered among the large file games, and the thrills and chills stay with you right up to the surprise ending. From walking on poles across alligator-infested swamp waters in Louisiana, to bombs going off in New York City, to rigged up lighthouses in Maine, and a partner she can't trust, Nicole must keep going amid peril after peril to find this fiendish killer. There are puzzles of the most intricate nature in the police laboratory, where even one iota of evidence may not be overlooked, and there are further puzzlements that will almost fry your brain! So, if you want non-stop thrills and chills as you solve terrible murders, this game is for YOU! Really, this has to be one of the most exciting games I have ever played anywhere! THANX, BIG FISH!
October 27, 2012
I love this game!
I liked the game for excellent story line, sound quality at the ending was a little rough you could not really hear them talking over the music. I purchased all of the Art of Murder and enjoy replaying them, looking forward to the rest.
April 13, 2012
Fun Hidden Object Game!
Really well hidden objects and a really fun game!!!!!!!!!!!
July 23, 2012
Art of Murder: Cards of Destiny
This game started off being very interesting and challenging, but by the end, which came all too soon, the story line was not fully realised in the action play and ended very disappointingly. In the last few scenes, there appears to be an issue with the audio/visual syncing process, which interrupted the flow of the action. The speaking interaction between characters is very stilted.
September 13, 2012