Aveyond
Fight monsters and explore a medieval world. Aveyond is packed with more than 60 quests, tons of places to explore, and over 50 hours of game play. If you like games like Final Fantasy, Chrono Trigger, and Dragon Warrior, you are going to love Aveyond. A powerful deity, Ahriman, has opened the Demon Portal and dark creatures now threaten the great isles. You must stop the destruction and destroy Ahriman before it is too late. The Sword of Shadows is the key to your redemption. You must find it in the mystical isle of Aveyond and use it to seal the Demon Portal and stop Ahriman.
60 spellbinding adventures to complete
50 lands to explore
Join Magic Guilds
Continue your epic quest with Aveyond 2
Game System Requirements:
OS:

Windows 2000/XP/Vista/7/8

CPU:

600 Mhz

RAM:

128 MB

DirectX:

6.0

Hard Drive:

36 MB
Game Manager System Requirements:
Browser:

Internet Explorer 7 or later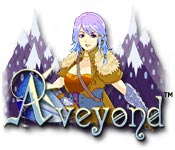 NEW299
The Big Fish Guarantee:
Quality tested and virus free.
No ads, no adware, no spyware.

Reviews at a Glance

Aveyond
0
out of
5 (
0
Reviews
Review
)
Customer Reviews
A Great Alternative to Hidden Object Adventures
Out of all of the games offered on Big Fish, "Aveyond," by Amaranth Games, is my favorite. After playing dozens of hidden object adventures, it was very refreshing to see a game with a different objective. Instead of freeing lost souls or escaping the grasp of a mad doctor that runs an insanity ward in the middle of nowhere by finding items that seem quite useless when one aquires them, the object of this game is to fight monsters using a turn-based combat system reminiscent of games of the 1990s. The main character, Rhen, is a girl from a small village on the western continent. She saves a mysterious woman, and is given her ring just before the annual spring time festival. Not long after, Rhen is whisked away to Galarah, where she is sold as a slave. There, she learns of her unique and powerful gift, and starts on a quest to save the world. The controls for the game are simple and intuitive. ENTER or SPACEBAR picks up objects, selects options or objects, and begins and advances dialogue. The arrow keys move Rhen or one of her party members around the screen. The mouse may also be used as an alternative to the keyboard. This simple interface is one of the biggest assets to this game. Some other key features are the simple, familiar, yet fascinating story. The main character, Rhen, is a girl from a small village on the western continent. She saves a mysterious woman, and is given her ring just before the annual spring time festival. Not long after, Rhen is whisked away to Galarah, where she is sold as a slave. There, she learns of her unique and powerful gift, and starts on a quest to save the world. The whole concept of a chosen one that saves the world is tired, but here it works very well. The story is not cluttered or contrived, but clear and simple, with charming characters. Although the world is in mortal danger, bright, colorful graphics capture the wonder and beauty a fantasy is meant to have. Side quests do not detract from the story, but enrich and add depth to an otherwise linear story. One thing that is very nice about this game, compared to others in its genre, is the ability to see and avoid monsters and save whenever you are not involved in a fight. Another great feature is the difficulty settings that range from easy to hard. Even in easy mode, battles do require some strategy, so be careful! All in all, this game was great. I would highly recommend this game to anyone who seeks a hidden object or point and click adventure game alternative.
December 3, 2011
Aveyond 1
You control a party of characters exploring and on missions to accomplish. You fight battles and grow in strength, experience and money with each battle. You can return to towns to recover health and purchase stronger weapons and armor. You can pick different skills at the beginning to provide randomness to your character. You can also pick and choose who is in your party. Different characters have different skills, experience and weapons they can use. Most of the story and tasks are non-liner. You must save yourself often to restart when you get killed. Length Long ? several hundreds of hours
November 29, 2011
Best Bigfish Game Ever!!!
I started playing Aveyond when I was about six years old and it was one of the very first Bigfish games I ever played and I downloaded the free trial and I automatically became hooked to the game and now I'm thirteen and I own every Aveyond game but this one is my absolute favourite it is a amazing game for anyone no matter if you like adventure games, finding games, anything at all it's a great game with great video and audio and I promise that whoever plays this game will be hooked like I am.
March 6, 2012
My first RPG game
This game got me hooked into the entire genre of RPG-Adventure games. After the first hour trial period I couldn't get my hands on the full edition fast enough. Great storyline, engaging characters, delightful humor, added to a good challenge plus plenty of side quests. A+ This game rocks!
December 3, 2011
Lost in Aveyond
A long and complex RPG that requires to you to pay attention to where you are going, whom you have interacted with and to remember what you've seen and found. In very minor ways it is (understandably) not as polished or concise as its sequels, but still definitely worth playing if you love RPGs. You will not be bored. And the vampire dolls are adorable.
June 10, 2012
Classic, my FAVORITE game
This is a classic old-school RPG, an amazing one, at that. I'd give it a shot if you like adventure storyline games, at least the demo, and if you're not hooked by then... well, then good day to you.
November 19, 2011
One of the Best...
...adventure rpgs on the market right now. An extremely engaging story, fun characters, and lots of monsters; everything that makes up a good rpg. For the most part the monsters are just the right level of difficulty for the area you're playing in, although bosses sometimes seem much too difficult! But the challenge is what makes it more fun. There are a few bugs in it, but nothing a simple restart didn't seem to fix. In the end though, it's an amazing game that leads to an amazing series. Anyone who likes this is guaranteed to like the other titles in Aveyond.
December 1, 2011
The first chapter in the best RPG series ever!
The first RPG I ever played and still one of the best ever. An awesome game with a great story, interesting characters, gorgeous music, and very atmospheric locations that include such settings as a vampire town, a dwarf city in the snow, and an elf kingdom up in the trees. Buy this game now - you won't regret it. PS, Te'ijal the vampire ROCKS!!
April 30, 2012
What a Surprise!
I really like this game! I've always avoided these kind of games, but with HOG's getting SO boring, and the other games I play so dark, I decided to give it a go......was I surprised! The little characters are cute, the story, though a pretty well used one, is neat. It's a perfect game to play when my son is around. I don't play my "regular" games around him so this is a great way to have fun and a little adventure too!
June 21, 2012
Recommended
Wonderful classic RPG. Highlights: * Skill system control of what Lars and Rhen learn * Collect power swords (Sword of Dreams etc) with unique additional skills for Rhen * You get to fly a DRAGON! * Stellar-quality music! * Very cute storyline Nyeh (room for improvement or preferences): * Turn-based battle can be tedious - but skills make up for it Complaints: * --none-- I would recommend this game to any classic RPG lover. It comes with a nice storyline and well-developed skill list. The mapping is just beautiful. Keep in mind that the battle system is turn based, not active time, however the variety of skills and items you can use make up for it. I have to give credit to Aaron for such breath-taking music. Aveyond is at this date my favourite RPG/Adventure game at BigFish (overall, it is just behind Everlong).
April 23, 2013