Aveyond
Fight monsters and explore a medieval world. Aveyond is packed with more than 60 quests, tons of places to explore, and over 50 hours of game play. If you like games like Final Fantasy, Chrono Trigger, and Dragon Warrior, you are going to love Aveyond. A powerful deity, Ahriman, has opened the Demon Portal and dark creatures now threaten the great isles. You must stop the destruction and destroy Ahriman before it is too late. The Sword of Shadows is the key to your redemption. You must find it in the mystical isle of Aveyond and use it to seal the Demon Portal and stop Ahriman.
60 spellbinding adventures to complete
50 lands to explore
Join Magic Guilds
Continue your epic quest with Aveyond 2
Game System Requirements:
OS:

Windows 2000/XP/Vista/7/8

CPU:

600 Mhz

RAM:

128 MB

DirectX:

6.0

Hard Drive:

36 MB
Game Manager System Requirements:
Browser:

Internet Explorer 7 or later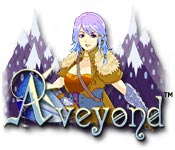 NEW299
The Big Fish Guarantee:
Quality tested and virus free.
No ads, no adware, no spyware.

Reviews at a Glance

Aveyond
0
out of
5 (
0
Reviews
Review
)
Customer Reviews
RPG Adventure Game
Just loved this game and the characters. Found it to be fun and challenging at the same time. The first in a series of Aveyond adventures which I highly recommend if you like rpg games. I found the graphics very good music too. The story line was wonderful IMHO....
November 26, 2011
Great gameplay but lacks logic and sence.
Okay so i loved the fights and battles. the overall game play in this rivals Final Fantasy and does JRPGs good in that aspect. However the storyline was bland and the main character Rhen was annoying and made no sense. Here's an example: she's kidnapped from her village at 16 and sold into slavery where she is released from it three months later. She then continues to tell almost everyone she meets throughout the game that she was a slave and was recently released even if they didn't ask, like she's proud that she was a slave and acts like she had been one forever even though it was only three months. The writers obviously didn't give this one too much thought. the story was also very basic and didn't really bring anything new to the table. At least nothing that i have not seen in other JRPGs. For this and other reasons i give this three stars and i DO recommend it to anyone who doesn't care about plot or the story in general, otherwise find another game. So like the title says great game play but lacks logic and sense.
January 12, 2013
AMAZING!!
Great character development! It had a storyline that had me on edge the entire time. I've played and loved every game in this series and HIGHLY reccomend this game to everyone! I also reccomend everyone watching the TV series 'Doctor Who' :D
May 9, 2013
Recommended
Wonderful classic RPG. Highlights: * Skill system control of what Lars and Rhen learn * Collect power swords (Sword of Dreams etc) with unique additional skills for Rhen * You get to fly a DRAGON! * Stellar-quality music! * Very cute storyline Nyeh (room for improvement or preferences): * Turn-based battle can be tedious - but skills make up for it Complaints: * --none-- I would recommend this game to any classic RPG lover. It comes with a nice storyline and well-developed skill list. The mapping is just beautiful. Keep in mind that the battle system is turn based, not active time, however the variety of skills and items you can use make up for it. I have to give credit to Aaron for such breath-taking music. Aveyond is at this date my favourite RPG/Adventure game at BigFish (overall, it is just behind Everlong).
April 23, 2013
the first Aveyond, well worth playing
This a classic RPG, a few years old, but still a lot of fun! Because it's a few years old it doesn't have all the perks the later Aveyond games do. like all party members advancing whether they are active or not. Lots of weapons, magic, quests, etc as any decent RPG game should have. The Aveyond series is one of the best, you don't need to play this one to play the Lord of Twilight series but it does give you some fun background.
March 4, 2013
Awesome RPG
I love this entire series of games. The are almost a through back to Legend of Zelda. Lots of fun.
February 26, 2013
Lots of dungeon bashing required for xp
To quote from the game description: "If you like games like Final Fantasy, Chrono Trigger, and Dragon Warrior, you are going to love Aveyond." And it is pretty much on the mark. The reason I say that, is because of the amount of dungeon bashing you have to do in order to xp and level up in order to be strong enough to kill the next demon. (Like in FFantasy games) Hence the long number of hours of game play, which will be taken up xp-ing. If this is the type of game you like, then this will fit the bill perfectly. For players that need faster moving story lines to maintain their interest, you may struggle with this aspect of the game. It's a preference thing. The speed and movement in the game is slick and simple, and the combat is fast compared to similar games. I enjoyed the dialog sequences expanding the story further, which especially at the start help to create that initial connection with the main character. This game has maps you can pick up making the game feel manageable without the need to refer to internet external sources to figure out where to go. There are excellent online forums and walkthroughs, for when you do need that extra bit of help or guidance. To summarize: A fun RPG game where you can chill, kill and adventure to your hearts content. But not for those who are not keen on dungeon bashing being the primary source of game play hours. Nice game - thanks!
December 31, 2012
Fun but very challenging for a novice
This is the first game of this type that I've played. I completed it at the easy setting. I enjoyed the anime style character design and the settings, my favourite being the spooky Halloween Hills. The game allows you to pick the members of your party, who each have different skills and personalities to add to the mix. The story is the basic saving the world by performing a series of tasks - in this case rescuring a number of druids who have been frozen by the evil Ahriman. This is a very difficult game for someone who is directionally challenged, and I found it frustrating trying to navigate through labyrinthine paths and/or caves while being constantly pestered by bees, wyverns, etc. The in-game maps were not helpful. Once on the screen, they could not be closed. I had to save the game, open the map, then use Windows task manager to shut the game and reopen it every time. It would have been helpful if I could have used a screen print to save a map, but I couldn't see a way to do that. As a novice, I sometimes was completely at a loss about what to do or where to go next and occassionally resorted to a Google search. I've been spoiled by the more linear games I usually play. This is an involving game that takes many hours to play and is excellent value for money.
December 29, 2012
Best RPG......
Fun, fun, fun. Hours and loads of hours of fun. haha. The first two Aveyond titles have the most gameplay hours than the others but they are all fun. The first two are also the most challenging out of the series. Trying to level up in the beginning was a challenge especially when you get the birds. They take a lot of health. The storyline was awesome and I stayed up so many night lacking sleep trying to play. I highly recommend this game. I play a lot of ps2 and ps3 titles and this is just as fun for a fraction of the cost of those games.
September 29, 2012
A Wonderful Experience
I adore the Aveyond collection to pieces. Of all of the games I've tried on Big Fish, it still stands at the top at number one on my favorites list. I fell in love with Rhen, her companions, and the unbelievably compelling storyline that left me grasping for more. If you love RPGs, or just playing something fun, you won't be sorry!
September 8, 2012