Aveyond
Fight monsters and explore a medieval world. Aveyond is packed with more than 60 quests, tons of places to explore, and over 50 hours of game play. If you like games like Final Fantasy, Chrono Trigger, and Dragon Warrior, you are going to love Aveyond. A powerful deity, Ahriman, has opened the Demon Portal and dark creatures now threaten the great isles. You must stop the destruction and destroy Ahriman before it is too late. The Sword of Shadows is the key to your redemption. You must find it in the mystical isle of Aveyond and use it to seal the Demon Portal and stop Ahriman.
60 spellbinding adventures to complete
50 lands to explore
Join Magic Guilds
Continue your epic quest with Aveyond 2
Game System Requirements:
OS:

Windows 2000/XP/Vista/7/8

CPU:

600 Mhz

RAM:

128 MB

DirectX:

6.0

Hard Drive:

36 MB
Game Manager System Requirements:
Browser:

Internet Explorer 7 or later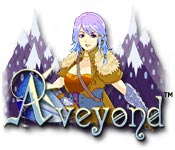 NEW299
The Big Fish Guarantee:
Quality tested and virus free.
No ads, no adware, no spyware.

Reviews at a Glance

Aveyond
0
out of
5 (
0
Reviews
Review
)
Customer Reviews
Always one of my Favorite's!
I've been playing this game since I was 12 (I'm 15 now almost 16) and I've always loved it ! No matter how many time's I re download it or restart and play it over again! If you love RPG'S and game's like cute knight (Another great game) You'll love this! <3 :)
June 27, 2012
RPG Adventure Game
Just loved this game and the characters. Found it to be fun and challenging at the same time. The first in a series of Aveyond adventures which I highly recommend if you like rpg games. I found the graphics very good music too. The story line was wonderful IMHO....
November 26, 2011
One of my all time favourites
I absolutely love this game and wish they would make another! The storyline is interesting and the multiple endings are funny and refreshing. The game can be quite challenging at times but with a little grinding you can get by alright. Love the visual style and music. I definitely recommend this game!
December 8, 2014
Buy them all if you can!!!
I have always enjoyed playing RPG's (Role Playing Games). They are one of my favorite genre of games. The first time I played this game I fell in love and bought the first two games in the series. As I started to play the second game I went ahead and bought the next couple so I wouldn't have to stop playing. Honestly If I didn't have to pay bills that week I would have bought the all of them in one fell swoop. There are so many side adventures in these types of games that it is literally impossible to get bored or to play the same game twice even if you have played the same one twice lol.
November 18, 2014
My first RPG
I had two Game Credits left over after I recently quit the Game Club, and as there was no new Nancy Drew to have, I thought I'd try one of those RPGs I had seen on offer from time to time. I didn't know which to get really, but I remembered Aveyond, so I decided to give it a go. From the beginning, I thought it looked silly, the movement was really slow and the landscape seemed to be as awkward as possible - houses really far away with really long winding paths leading to them, clumps of grass and stones in your way... My trial hour ran out just as I was about to leave the village to go chasing sheep (which triggers the proper story). I was in two minds whether to get it, but then thought, what the heck, this game credit would run out soon anyway, and used it. Straight away, after Rhen was whisked away to Ghalarah, the story became much more interesting, music was great, landscape wasn't as awkward anymore etc. And, after about two days, when the game crashed and wouldn't start, and I had to install it onto the C drive instead of my memory stick, the movement sped up considerably. I really like the story, old as it is, different lands had their distinctive music, buildings, plants and animals, (lots of creatures to battle!) and it was funny to talk to the characters walking around in towns. I also thought progressing to different areas was well done, first you were confined to Eastern Continent, with access to North and Aveyond, then, as you level up and acquire a boat, ship and dragon (yay!), more and more areas become available with harder to battle monsters. Final battle is very hard, but there are items to help available, as well as walkthroughs etc. I think I spent about 40 hrs on this game, over the course of a week, and I felt it was definitely worth the money. Lots of replay value, as there are different characters to use in your party, and different items to acquire, as well as loads of side quests to finish. All in all, a credit well spent, and I also used up the other credit for Aveyond 2. I think I will have to come back to BigFish to buy other games from the same developer too! tuskel, sincerely
June 14, 2014
Wonderful Adventure game
This game is very unique and has a story that really can't be beat. It's worth double what you pay for it. I finished this game several times back in 2007, and coming back to it now, I love just as much as I did way back then.
December 18, 2013
Most Fun Adventure Game I Have Ever Played
Had a good story line, multiple options for most of the game
October 15, 2013
Long-Time Favorite~!
I remember playing this at nine years old, wishing I could buy the full version. Now that I have it holds a special place in my heart! Beautiful music and a story that keeps you going. The colors are bright and the worlds vary nicely. Leveling is difficult but it shouldn't hold you back. Keep in mind you won't beat it in a day, it can be tiring but for me it was worth the satisfaction in the end. One of my favorites!
August 3, 2013
My Favorite Game By A Wide Margin
If your taste is linear HO/P/A games, pass this one up. Otherwise, get ready for an awesome game. It is decidedly non-linear. And you definitely get your money's worth. It took me around 80 hours to play although I did manage to finish all the side quests. (Yes. Eighty.) Although the beasties and the bosses get harder as you move through the game, your skills increase just as fast. And figuring out which characters to use in each situation just adds to the fun. At first, I found the size of the areas to be explored overwhelming but soon I figured out how to deal with that.. (Hint: I used a left hand rule.) Aveyond was my first RPG and I am hooked.
June 16, 2013
Best value for money game on BFG!
I happened on this game by chance, looking for something different to play, and boy, did I hit the jackpot! It strongly reminds me of an old game I used to love called 'Castle of the Winds', very similar style, except this game lasts much longer. A very old-school RPG game, well worth trying. It's fun, challenging, and never boring! Give it a go, you'll be surprised.
June 4, 2013