Twisted Lands: Shadow Town
Exclusive
Gather items, solve puzzles and make spine-chilling discoveries as you explore a deserted island in Twisted Lands: Shadow Town! Why does your heart beat faster when you peer into a dark room? What makes the hair on your neck bristle when something invisible whispers in your ear? Dive into the emotion of fear, and find out, in this spooky Hidden Object Puzzle Adventure game!
Game System Requirements:
OS:

10.5

CPU:

1.2 GHz (INTEL ONLY)

RAM:

512 MB

Hard Drive:

256 MB
Game Manager System Requirements:
Browser:

Safari 4.0 or later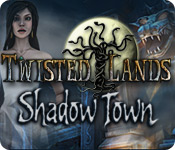 NEW299
The Big Fish Guarantee:
Quality tested and virus free.
No ads, no adware, no spyware.

Reviews at a Glance

Twisted Lands: Shadow Town
0
out of
5 (
0
Reviews
Review
)
Customer Reviews
Twisted Lands: Shadow Town
41
41
Don't Go On First Impressions
First time I tried this game, I gave up almost before I started. There is too much time spent on the (irritating) lead in and I found the gameplay annoyingly hard to follow at first. However, I'm here to say I was wrong. After playing and enjoying the sequel, Insomniac, I gave this one another try. It's actually very well done, and I have no hesitation in recommending it. The intro doesn't really lead you to expect the superb artwork that follows. HO scenes are uncluttered yet challenging and relevant. Music very atmospheric although it got on my nerves after a while. I enjoyed the focus being on HO rather than puzzles as I'm not much at them. The adventure stuff was a little difficult to follow and I needed to use hint to point me to the next task more often than usual, but it did follow a logical sequence in line with the story. My only criticism (other than the 'film' segments, which I never took to) is that there is too many clicks involved in getting from the scene where you find the tool and the scene where you use it. To and froing is okay by me usually, but it tried my patience here. In the game's defense, part of its governing logic and theme is being trapped in mazes, so there is a reason for it. The ending was satisfying even though you never really find out what was going on. More on this is available in the sequel, where much of this game's story makes more sense. Great games to play back-to-back.
December 30, 2011
Great HOG and storyline
I purchased this game after reading comments & reviews for the follow-up to this game, Twisted Lands: Insomniac. Fishies recommended playing Lost Town first because it ties into Insomniac. As always, excellent advice! This game is a great H0G adventure game. There are just a few puzzles and I found them rather difficult. So difficult I skipped most of them because I just couldn't figure them out; this is rare for me. This did not take away from the fun of the game at all, because like I said the puzzles are few. The graphics are great, the music is suspenseful and not irritating. The game is a long one. A great buy that's worth the $$. I'm DLing Insomniac now and from what I've read, I know I won't be disappointed. I always trust the Fishies' advice.
December 9, 2011
One of the best!
Twisted Lands: Insomniac is the sequel to this game, so I highly recommend that one along with this. These 2 and Stray Souls are my favorites in the Hidden Object genre. Great stories, they are dark and draw you in well. The art is great, nice and crisp, no problems with items being too obscure to recognize like in some games. This is also one of the few that I would say it's pretty worth it to get the collector's edition for the extra game play. It's not a whole lot of extra gameplay, but it was enough for me to feel it was worth it.
November 22, 2011
Great game!
That's a very interesting game! The storyline is great. The graphics are crisp and the HOS clear. The mini-games are not too difficult. There is a loooooot of walking back and forth but the hint system is very good, so you don't spend time wondering where to go next or asking yourself where you can use an object (sometimes I just didn't remember where I had seen a clue). The gamelength is good, and when you're in it, you will not want to make even a coffee break ;-).
January 15, 2012
Great Game in all respects!!!(don't let the intro throw you)
I had forgotten I bought and played this game a long while back until recently seeing the sequel.....How did I miss it??!!!!(duh) I have Insomnia.....the sequel but haven't played yet. I did a refresher with Shadow Town and was reminded how incredible this game was!! I'm anxious to play the sequel. Hopefully the graphics (very crisp, clear and draw one in) The hint is great if you lose direction which can happen in this game as there is a lot of going around the island etc. I really cannot find fault in this game in anyway. I've moved away from pure HOG , love the adventure, story and puzzles with HOs tossed in.
March 21, 2012
One of the Spookiest Games I've played
I just finished this game and I must say the ending is quite surprising, well at least for me anyway. HO scenes are nicely done, although I found them abit on the dark side so sometimes it will make small items difficult to spot. You need to go back & forth to different locations for HOS, or to use an item found in HOS on something, which was quite confusing for me to keep track of which item is to be used where, because you do get a lot of items in your inventory and you will forget where you saw that location that you're suppose to use that item. I do use the hint button quite alot to make sure I'm on the right track when I've found an item that I think is supposed to be used in a particular location, I will move toward that location and will click the hint button, if it indicates the same direction, then I know I'm on the right track. Over this is a very fun game.
February 13, 2012
Shipwreck fun
Not much of a storyline, you have been shipwrecked on an uncharted island that was inhabited over a 100yrs ago but now there is no one to be found. There are no VOs, the graphics are cartoonish and grainy in the cut scenes. The HOS are a good challenge and crisp compared to other scenes. The puzzles are of a good variety. There is no map, just a journal and a LOT of back and forth so be ready to put that memory of yours to the test! The end leaves it wide open for the sequel and enough curiosity to want to play it to hopefully get the rest of the story and find closure.
May 23, 2012
Twisted Lands; Twisted Fun!
Not what I expected AT ALL! Excellent game! This game took me about 4-5 hours to complete (and that all depends on how you play) but it was well worth the money! The game starts off somewhat boring but very quickly grabs you and reels you in. The whole story really had me wanting to know more and see exactly what was going to happen next- its not what you expect!! The graphics were pretty nice- I've seen better but at least it wasn't extremely dark to where you couldn't see where the hidden objects were. The HOSs were done very well, no 'junk' thrown in there for filler- everything was pretty much meant to be in the scene. There is a lot of back and forth but I enjoy that sort of thing so that didn't bother me too much. If you get stuck or can't figure out where to go next the hint button will guide you to where you need to be. I am VERY excited to play Twisted Lands: Insomniac, I got Insomniac as a bonus game when I bought another game and after reading all the reviews I immediately bought Shadow Town to play before Insomniac. I'm very much anticipating Insomniac because Shadow Town was excellent and it can only get better from here!!
March 29, 2012
Twisted Land: Shadow Town
I Bought the game based on the review. I really liked the game.I did not remember that I had tried the game before where I had not get it. It is a very easy game where the hint button is used a lot because there is no SG. You do not loose your hint unless it is for a task or when you are in the HOS. The HOS are easy to do. The mini games too. The ending is surprising but there is a movie option where you can replay and it help. The graphics are not as crisps as you have with newest games but they are good. I enjoyed the game to the point where I played from the start tto the finish with not many interruptions. This is new for me. So I reccommend this game. Enjoy.
April 13, 2012
Another repetition game...
I LOVE HOG's, and I've played long enough and enough games to be considered an expert, but I consider myself intermediate because I don't play them daily and I rarely review them...but I'm really tired of the ghosts and vampires and historical mysteries.I use to love them, but they are getting old...Can't we get one that has a completely different story, maybe even a little color??!! I also can't stand going back and forth back and forth and remembering which direction I went and didn't go. Figuring out which way to go is part of the fun, but 2 hours after you have done that (more than once) and you STILL have no way of knowing which way to go...it's gets boring. back and forth once or twice and then that scene should be done...closed even. And the way this whole thing connected together, yet you still had to go all the way around the game to get there every time...even after you have unlocked numerous passages. I didn't like it...I bought the first one because of the reviews telling me to play it before this one....but I won't be buying this one since the demo is the same thing. Like I said...repetition...storyline...scenes and even entire games. Come on...give us a choice for a change!
August 24, 2012
The Apple logo is a trademark of Apple Computer, Inc.
The Windows logo is a trademark of Microsoft, Inc.