Haunted Halls: Green Hills Sanitarium
Explore a decrepit mental asylum and find your missing boyfriend in Haunted Halls Green Hills Sanitarium! After hearing about some wrong doings at the asylum, your boyfriend, Tim, takes off to conduct an investigation of his own. As Tim dives deeper and deeper into the mystery, his letters to you abruptly stop coming. Set off to the Haunted Halls and find him in this incredible Hidden Object Puzzle Adventure game!
Awesome storyline
Fantastic graphics
For a more in depth experience, check out the Collector's Edition
Game System Requirements:
OS:

Windows XP/Vista/7/8

CPU:

1.4 GHz

RAM:

1024 MB

DirectX:

9.0

Hard Drive:

387 MB
Game Manager System Requirements:
Browser:

Internet Explorer 7 or later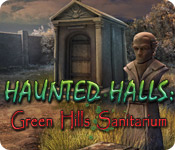 NEW299
The Big Fish Guarantee:
Quality tested and virus free.
No ads, no adware, no spyware.

Reviews at a Glance

Haunted Halls: Green Hills Sanitarium
0
out of
5 (
0
Reviews
Review
)
Customer Reviews
Haunted Halls: Green Hills Sanitarium
66
66
Really enjoyed this game
Loved this game, really enjoyed playing it. Spooky, easy to understand storyline, good mixture of inventory based puzzles and H0 scenes. And it was a really good length; several hours, if not more. The only slight issue I had was that I really hated the same 10 second sound effect of screaming people and crying babies that played over and over and over throughout the entire game. I had to turn the sound down! But that was my only bad point. Loved the rest!
May 10, 2012
Excellent
The HOS and mini puzzles were challenging and kept me interested. Highly recommend this HO. Stayed up just to keep playing because it held my attention so well.
February 28, 2012
You're in a mental asylum, what else can I say?
I'm going to save my boyfriend, and it just happens to be in a mental asylum. This sounds worth a try. Once the hour was up, I, at that point, had to finish the book until the end. The puzzle workings gave me a "Saw-vibe" (the movie,) yet the storyline is not in any way like that except that other forces know what gets to everyone, and everyone is prey to having to deal with it. It's like walking through a book. You don't get too frustrated by getting stuck to the point you don't want to finish it, and it's not so easy that it is boring. At the end, it feels like you accomplished finishing up the book and you might want to look for a sequel, which we obviously now have...so we'll see how that tends to pan out. I'm not sure if the gameplay and storyline is amazing for hardcore hidden object players, but I'm picky with which ones I get into and I just didn't want to stop while playing once I started this one.
November 14, 2011
Really enjoyable!
After playing the trial I decided to buy it and I am glad I did! The hidden object scenes are good if a little on the easy side. The adventure side of it is more challenging, as there are no hints available. On the plus side it does come with an intergrated strategy guide which i do admit to using a couple of times! The story is entertaining and held my interest, which isn't always the case with hidden object games. The graphics are good and overall it was a pleasure to play. I have just bought the sequel and am really looking forward to playing it!
November 30, 2011
Fun Creepy Game
This game is fun but don't bring anything new. For fan of hidden object game, you are sure to past a good moment.
November 22, 2011
Well Told Tale, Classic Series
BASED ON COMPLETED GAME FIRST IMPRESSIONS It?s quite an exciting car smash we get ourselves into in the intro to this game. It?s been done before, yes, and since, but it is still well done. The voiceover is deep, authoritative, ominous. WHAT?S HAPPENING Our foolish boyfriend has got himself in too deep investigating strange happenings at an abandoned asylum. After your dramatic arrival, you soon find a lot that?s strange yourself. It seems some mad doctor is experimenting with patients with phobias, although his methods don?t seem likely to help them any. You must help these poor people in order to find and rescue Tim, the boyfriend. There are some really interesting phobias in this one, and some bizarre treatments. SIGHTS & SOUNDS Despite its age (released 2010), this game still looks good, the hand drawn graphics (yes, it?s an ERS game) look sombre but not overly dark or disgusting. It opens in wide screen without noticeable distortion, which impressed me. The music is different from the norm with ERS, and the environmental sounds are chilling. MAKING PROGRESS There are a lot of HO scenes, and very few puzzles in this game. The HO scenes are clear, not too dark, and rarely are the objects small. There is animation, but no interactive items in the standard list. I like the way the list is broken up into segments, and the buzzing fluorescent lights. Adds ambience *smile*. A not very helpful hint works outside the HO scenes. BLING! We have with us an electronic (I think) notebook to record information, including the medical records we find along the way. No map though. FAMOUS LAST WORDS This is the first of the Haunted Halls series, and is very well put together. It is interesting how well a game can work, even without the ??Bling!?. I found the game as immersive and enjoyable as any of the blockbuster games that are the norm today.
July 22, 2013
Wow That Was Tough!
Great game, enjoyable, but I had to check the walkthrough guide a LOT more than I would have liked. I guess I like games that are a little easier to figure out what needs to happen next. I agree with other reviewers that after releasing the patients from their fears, the patients should leave but they don't. The ending was a little disappointing, all that work to help what's his name and for what? The journey through the asylum was cool, a lot to do, but very frustrating for me at the same time. I look forward to getting into something new now :)
January 6, 2013
Twisted and Interesting
A very original game, with intriguing problem/solution play and interesting environments. I enjoyed moving through the rooms of Green Hills Sanitarium, seeing its different scapes, and reading the dossiers on its patients and their disorders. The solutions to each puzzle/area manage to be feasible and enjoyable, without being needlessly difficult or blatantly obvious. This is one of the better hidden object games that I've played, and the I hope to play the sequel.
March 16, 2012
Great Story Line With a Feel of Saw the Movie
At first when playing the game, I felt it was going a little too fast. Right off the bat you find where the boyfriend is. (your playing the role of a worried girlfriend finding her boyfriend lost at a psychiatric hospital) True, the main part of the game is to complete different steps to save him, however I still feel that the game could of had one chapter of finding where the boyfriend is locked up. Graphics are not the greatest but they are not the worse. The one thing I do not like, and think is a little poor quality is when interacting with a character. The Characters, in my opinion, could have a little more motor skills, and instead of reading what the character is saying, I find it more enjoyable to hear the character speaking. Sound quality was lacking a tad also. Same music through out the whole thing, and all I hear in most room, and in the HOS were horrified children. I was kind of lost on that seeing the game had nothing to do with children, but whatever. Sound for me was lacking, and to me that matters, because it adds to the game experience. The story line was great. Had a Saw (the movie) feeling to it. The beginning, and end were a little short, and room for details. HOS were GREAT! For those that love a lot of HOS and ones that are very challenging, than you will find this game fun and challenging. The only complaint on the HOS is that some objects where hard to find, blended in a little too well or an object was hidden under something to were you could not tell what it was. Over all I say this game was worth buying, but beware, at first, and most through the game, it is a little easy. There is some thinking to do. If you are a beginner, or a person who plays a lot of these type of games but likes it a little easy, go for this game!
October 17, 2013
kinda wierd
Graphics, good during play. Even when your "helping" people...but good grief, during some of the HO scenes it was hard to see, even on my laptop. The scenes were done well- not jumbled messes- they just wanted to stick with the dark theme, and it blends things in a bit too well. Music, fine. It seemed to be on the same loop, but you really don't notice it unless you concentrate on it. What really creeped me out was the little kids chattering #singing?# in the background of all the effects going on noise wise. The first time I really stopped and heard it my hair kinda bristled, it's that creepy. I played through the full version in three hours. I had to use the blog walkthrough for...one or two things, because I happened to miss them. I think it's a good game, and recommend it. As a side note, I also recommend the game F.A.C.E.S. to those taken by this game. It's also creepy-asylum, with a few added twists and better graphics.
June 6, 2013
The Apple logo is a trademark of Apple Computer, Inc.