Chronicles of Albian: The Magic Convention
The Fairy Godmother, Gwendolyn, has called on you to help prepare for the official Convention of Magic Masters being held at her home, Albian Castle, in only a few weeks time. Wizards and sorcerers of the world descend upon Albian for the magical convention of a lifetime and expect incredible accommodations. Use your Hidden Object talents to find hidden treasures and help finance the required repairs and upgrades to the castle grounds in Chronicles of Albian: The Magic Convention!
Hilarious characters
Perplexing puzzles
Explore Albian Castle!
Game System Requirements:
OS:

Windows XP/Vista/7/8

CPU:

1.0 GHz

RAM:

512 MB

DirectX:

8.0

Hard Drive:

179 MB
Game Manager System Requirements:
Browser:

Internet Explorer 7 or later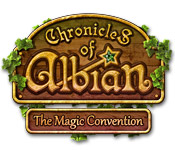 NEW299
The Big Fish Guarantee:
Quality tested and virus free.
No ads, no adware, no spyware.

Reviews at a Glance

Chronicles of Albian: The Magic Convention
0
out of
5 (
0
Reviews
Review
)
Customer Reviews
Chronicles of Albian: The Magic Convention
35
35
MAGICAL CONVENTION
STORYLINE: Albian Castle is hosting this year?s Convention of Magic Masters, but is in disrepair. You arrive to help your fairy godmother to make repairs before the guests arrive. Lovely setting and rooms to visit. GAMEPLAY: Timed or untimed modes. First you need funds to make repairs. The HOS will provide the needed treasures to be sold to the magical pawn shop. The HOS are somewhat cluttered and objects may occasionally be small, but they are crisp, clear and very colorful. You start with 3 hints, but there are fairies hidden in the scenes, who will find one random object for you. There are also ways to earn extra money: find gems scattered throughout the scenes; finish a scene with extra time on the clock in timed mode; earn $25 for each unused hint; get bonuses for speedily finding the next item appearing in your list. Take your treasures to the pawnshop. The proprietor is an interesting character. Repair sections of the castle as you accumulate funds. There are an eclectic mix of designs for the towers, bridges, etc. and you can change the design later if you want. PUZZLES: There is an array of puzzles available. After the game is finished, you have the option to replay the puzzles. You also get a selection of wallpaper for your desktop, an unusual benefit of a SE.
November 4, 2012
Hours of Fun Play
This is one of the few hidden object games that took me more than a day or two to completely beat. That being said, towards the end of the game, it started to feel a bit repetitive and it took a bit of effort to finish the castle upgrade because I felt like I was playing the same levels over and over again. Overall, it's definitely worth the price--good graphics, good music, and a decent story.
November 23, 2011
Chronicles of Albian: The Magic Convention
I would have given this game 5 stars, but some of the hidden objects were so microscopic that they were unrecognizable, and some items were only partially shown on the edges of my screen. With that being said, this is a magical story about the Magic Convention that is going to be held at the Fairy Godmothers Albian Castle. All magicians, sorcerers and wizards attend this convention and the Fairy Godmother has asked for help to restore the Albian Castle to it's formal beauty. You need to search for items to sell to the local merchants in the form of HOS. Each scene has a hidden fairy to find a single item of her choice, hidden wands for extra hints, and hidden gems for extra money. There are mini games to play such as blocks where you need to clear blocks of different shapes by moving them to empty spaces until the lock and key are unblocked. With the money you earn selling to the merchants, you buy an upgrade to the castle. This game also has wallpapers and bonus mini games as well as bonus HOS, enjoy!
April 30, 2014
Entertaining
Lovely game, maybe a bit difficuelt to find all the items.
November 15, 2011
Has its good and bad points
This is mainly a HO game but it also has scattered puzzles, which makes it more fun to play than some games like "Escape Rosecliff Island", for example. Finding the hidden objects is fun, but adding jewels (for gold), wands (for more hints), and fairies (to find a hidden object for you) makes it more interesting and challenging. The game gives you a max of 5 hints (with an option to refill them by finding wands) and sometimes I got down to 1 hint in some of the rooms. The artwork is lovely and the music, while some of it is familiar classical, is mostly unobtrusive. Some of the character interactions are a waste of time but some can be amusing and lead into the next puzzle or HO action. Rebuilding the castle and grounds is interesting and can be done in a multitude of ways based on your gold and your taste. The plot is really non-existent and promised some sort of mystery near the end that never materializes. You may need a largish screen to see the objects in the rooms. I use a laptop with a rectangular screen, which means that, when the game is running, the sides of the images are cropped and the playing field itself is square and kind of squished together. I had to lighten my screen lighting because some of the rooms are dark and the HOs are well-disguised. The puzzles are a mixed bag. I loved the "conduit" style puzzles and jigsaw-like images and, for a while, the sliding puzzles. The musical ones are fun at first but rely on memorization, which, as an ADHDer, I totally botch after they get too long. The sliding ones were fun at first, but after a while, they became absolutely impossible for me to figure out. I went to the walkthrough for a solution but, alas, all it showed was the first and last images with no indication of how to get from A to Z. Very disappointing. A lot of the puzzles could have benefited from a hint button which, when used, didn't add to the points achieved but helped you solve the puzzle for your own sanity. The "treasures" contained within the puzzle boxes were not varied enough--how many ladybug-leaf pins do you need? More variety in the treasures, please, even if they don't mean anything in gold or points. It just adds more interest in the game. I think most of the game developers need to remember that the games they are creating are being played on smaller screens like laptops and should be lighter and have better distinction between HO and background. Also, older players with worsening eyesight may need some help, like a magnifier, when looking for a smaller item. All in all, the game kept me coming back, despite its shortcomings. I just ended up having to skip some of the puzzles to finish the game. I will be following up on the second game at some point. It is a long game, so you get a lot for your money.
March 25, 2014
My poor old eyes
I had to give this four stars even though I've had a hard time with part of it. The objects are very small and often put over something the same colour which makes them difficult to find. And the names used for some of the items are not what I would have called them (foreign developer?) ie: an ink stamp was actually a blotter. A gas lamp was actually a blow torch. I have to use at least one hint in every scene mostly because I just can't see the items. But the story line is great and the graphics are lovely. It's from the same folks as the Farmington games which is what attracted me in the first place. And I like building things! Lots of fun.
February 9, 2014
What sold it to me is the hint system
I find the objects a bit too hard to find for real enjoyment, but the extra wands help, and the real selling point for me is that when you use a hint you can choose which item to use it on. Relaxed mode option is also a plus.
December 22, 2013
A fun HO game
This is a fun HO Game. Its very challenging because part of the hidden objects are extremely small. The graphics are really pretty but some of them are not terribly clear. You earn money to make the castle and the grounds pretty. Fun choices. There are also gems to collect and the hints are helpful for some of those really small items. There is also a little fairy to help you out. It has a cute story to go along with the game and the dialogue is funny. The mini games are also fun. It is very long and enjoyable and the music is pretty and kinda calming. Give it a try.
July 30, 2013
Demo only
After playing Chronicles of Albian 2, I had to go back and replay Chronicles of Albian. It was a fun game, but the items and jewels and fairies were really hard to find. There were two modes, relaed and timed. There are jewels to collect to increase your income to refurbish Albian Castle. There are also mini games where you can get rewards in cash, also to use for refurbishing. There is a fairy in every scene to give you a free hint and to accumulate to five hints you can find magic wands to get those extra hints. There are wallpapers that you can unlock at certain levels and extra puzzles. There is no voice over, only reading what the characters have to say. All in all it is a fun game, just really hard to see the items.
June 18, 2013
a
good game-will be buying it shortly
May 18, 2013
The Apple logo is a trademark of Apple Computer, Inc.