Chronicles of Albian: The Magic Convention
The Fairy Godmother, Gwendolyn, has called on you to help prepare for the official Convention of Magic Masters being held at her home, Albian Castle, in only a few weeks time. Wizards and sorcerers of the world descend upon Albian for the magical convention of a lifetime and expect incredible accommodations. Use your Hidden Object talents to find hidden treasures and help finance the required repairs and upgrades to the castle grounds in Chronicles of Albian: The Magic Convention!
Hilarious characters
Perplexing puzzles
Explore Albian Castle!
Game System Requirements:
OS:

Windows XP/Vista/7/8

CPU:

1.0 GHz

RAM:

512 MB

DirectX:

8.0

Hard Drive:

179 MB
Game Manager System Requirements:
Browser:

Internet Explorer 7 or later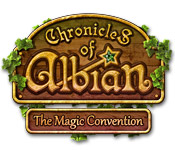 NEW299
The Big Fish Guarantee:
Quality tested and virus free.
No ads, no adware, no spyware.

Reviews at a Glance

Chronicles of Albian: The Magic Convention
0
out of
5 (
0
Reviews
Review
)
Customer Reviews
Chronicles of Albian: The Magic Convention
35
35
Ordinary game
It starts with a cute scene, good voice over, but after, the game get kind of slow. Voice over disappear (you have to read the dialogue), music is kind of annoying and... you simply enter into a scene (like kitchen, room , etc) and play several HOG at the same location. That's boring, very repetitive! The main challenge in HOS is the size of objects (particularly in notebook) Besides the required list, you must collect: - gems - to earn money to rebuild the castle; - magic wands - to gain hints, - little fairies - who find an object from the list. It has just a few mini games and they are easy and well known, like sliding blocks and simple puzzles - like to assemble a dollar bill, and the parts are large and few. Despite all this, is a game that entertains.
February 1, 2012
Straight hidden object
If you like straight hidden objects then give this a demo but be warned, the H0 scenes are hard. The prologue has a voiceover but once the game starts there is just lilting (rather boring) music & dialogue which is clickable if you read quickly. The background graphics are pretty although the characters look dated. There are 10 puzzles to solve ? these are mini games by another name & you also unlock wallpapers as you play. You are given 3 hints to begin & you can find others but if you do not find any more then as far as I can tell there is no automatic recharge. There is a misclick penalty which soon becomes annoying as objects are so very small that you inevitably end up clicking incorrect items. And when I say small I mean miniscule. There are a lot of things to think about besides actually finding the H0s; in each scene there are extra hints to find in the form of wands (more than one in most cases) a fairy that will pick up one of your objects thus removing it from the list a speed bonus to earn cash for finding an object very quickly after it appears on the list jewels are scattered through the game & you earn cash for locating these The money is used to buy upgrades to the castle & like all games of this type there are three varieties to choose which can be changed if you want to.
December 17, 2011
Good game but a little repeatative
This was a fun game, nice and lighthearted. You end up spending a good amount of time on it, but the thing I didn't like was that the reason you spend so much time on it is because you have to keep searching the same scenes over and over again many times. It WAS fun for me though to fix up the castle, which is why I kept going till the end, doing the same old searches to make enough money to buy the upgrades. So if you don't mind searching the same scenes quite a few times each then you should really enjoy this.
November 24, 2011
Fun but flawed
This games combines some fun features: pleasant story line, nicely drawn images, bonus for multiple items quickly found, variety of mini games and the ability to "improve" the castle as you progress. Unfortunately, many of the HOs are so small/obscure/poorly differentiated from the background that, for me, it wasn't challenging - it was frustrating. There are hints that can be used (you get a bonus for those unused, and more are available in successive searchable areas). It's worth downloading the free trial to see if the pros outweigh the cons for you.
February 1, 2012
Not a great or enjoyable game
I just purchased another game by these same makers, and I really liked it. (Farmington Tales is an excellent game and very fun, and well worth your money.) But in this one, the objects were very very small, and difficult to see. I had to use the hints, almost all of them, in every scene, just to get out of it. I am not finished yet, but don't have far to go, and I am sure glad I purchased with a game credit. I am an old gamer, and can hold my own on HOG style games, and this was more like punishment of some kind. Not fun to play! I would not suggest it to anyone. Even too small and boring for young children to pay. I know my grandkids would not like it. I will play it through once, and that will probably be it for me. The rooms are dimly lit and very hard to see.
September 30, 2013
Itsy-bitsy hidden objects
I love games where you get to design gardens, houses, etc., so why not a castle? But try as I might, it was very, very hard to see the teeny hidden objects, the tiny blobs that represented jewels, and miniscule fairies that didn't really look like fairies -- if you could even see them. The hints are replenished by finding very, very small magic wands. The scenes are nicely drawn, but the objects in them are small, not proportional to the other objects, and sometimes difficult to recognize. After just three scenes, I had a headache, and gave up. Other reviews make this sound like a wonderful game. I wish that had been my experience. (This was played on a 17-inch laptop.)
July 22, 2013
Buyer's Remorse: This is no Farmington Tales
I seldom purchase HOGs, but I purchased this game because I'm huge fan of design/remodel games and the game developers behind Farmington Tales and Tales from Lagoona became a credible force with me after playing their aforementioned games. Wow! I am having buyer's remorse. The music, storyline and the castle upgrades are nice. But, the HOG scenes resembled a crammed junkyard and the objects are very, very tiny and difficult to see. I found myself moving closer to my monitor to locate items. I didn't have this problem with Farmington Tales or Tales from Lagoona because the graphics in those games are viewable... and I played both games more than once. This game was frustrating to play after five minutes of play time. If you purchase this game, you will need the vision of a hawk to spot objects. So, be prepared to be frustrated. Have an ice pack and a magnifying glass nearby. Buy at your own risk.
November 23, 2013
I do Not like this Game !!!!!
Objects in HO is hard to see, unless your eyesight is better than perfect. It has no challenge at all, just one HO scene after the other. Graphics are bad.
June 5, 2012
Ridiculously tiny objects
This has to be one of the worst hidden object games I have played. I did not even finish the trial hour because it is too frustrating. I don't play games to be annoyed and irritated! Some of the objects are WAY too small, and also they don't look like what they are supposed to be. A jug and a vase are two different things, for instance, and if I am looking for a jug I will not think I have found it when I see a vase. The rooms are very cluttered and the graphics are so dark I had to adjust the monitor display. Won't be buying this one, and I would not recommend it to anyone else either. Save your bandwidth and go for something else, there are a lot better hidden object games out there.
May 10, 2013
I Don't Like Having to Work for Hints
I played the demo for about 15 minutes then quit when I learned that after the initial 3 "free" hints, the rest needed to be earned by finding tiny fairies and tiny wands. The graphics were bright and colorful. The music was beautiful and clear and appropriate for this fantasy-themed game. But the hidden object scenes were overloaded with some very small objects. Combined with the hunt for objects to earn hints turned me off to this game. There are two things I dislike in games -- being timed and having to earn hints. The only game that I liked in which hints have to be earned is Travel League. You collect butterflies which are not minuscule and are plentiful. There is one entire scene in which you have nothing but butterflies to collect. It also has gorgeous graphics. Try it!
February 22, 2014
The Apple logo is a trademark of Apple Computer, Inc.