Kaptain Brawe - Episode I
Step into the world of interstellar travel, where Space Pirates lurk at every corner. Kaptain Brawe, a Space Police officer will embark on a journey filled with quests, conspiracies and general chaos, as he follows the lead of two kidnapped alien scientists. Step into Kaptain Brawe's beautiful hand-drawn world, and master this Adventure game to save the day!
Amazing graphics
Exciting action
Embark on an epic adventure!
Game System Requirements:
OS:

Windows XP/Vista/7/8

CPU:

1.8 GHz

RAM:

512 MB

DirectX:

9.0

Hard Drive:

102 MB
Game Manager System Requirements:
Browser:

Internet Explorer 7 or later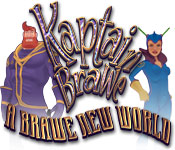 NEW299
The Big Fish Guarantee:
Quality tested and virus free.
No ads, no adware, no spyware.

Reviews at a Glance

Kaptain Brawe - Episode I
0
out of
5 (
0
Reviews
Review
)
Customer Reviews
Kaptain Brawe - Episode I
10
10
"Interstellar Journey"
I am definitely lov'in this game. It's unquestionably fun, once you get a hang on to what your are suppose to do. It seems short but I believe there are a lot of challenges to this game, which takes a while to get through. This is absolutely a "keeper" for me! If it's different and challenging I am undaunted. I love science, so testing and experimenting is for the courageous. . . . . . . . off to explore "A Brawe New World".
December 13, 2011
Kaptain Brawe 1 & 2 : Short but Fun :-)
For fans of adventure game, its gonna brings you some good moments. You are in your spaceship and receive a distress signal. You decide to go and that's how the story begins! Funny characters, good graphics (cartoon style), humor and a good story for this one. You could choose over 2 modes : one has many hints and less monologue (easier). I play the second : hardcore and I enjoy it. You have to take your time to learn the gameplay and think of some actions like to combine objects in the inventory or exchange things from a character to another. The series is short. It takes me about 5 hours and i took my time (read everything). But, aside the length, it is a very fun game ! Hope they made a third or at least another Brawe Adventure ! Notes : 1) Both games are connected so it's better to know that before you buy one of them ! 2) HOPA (hidden-object-puzzle-adventure) players may find this kind of game hard : no oc, no puzzle just the old fashion way ; o)
January 31, 2012
Fun adventure game, but VERY short
This is a fun game to play. The puzzles are somewhat tricky and everything in it is good. But, it's way too short. I beat it in a couple of hours without using hints. It is similar in game play and humor to the old Zak Mckracken and Monkey Island games. Again, the game is quite fun and entertaining, but incredibly short.
December 13, 2011
Short first episode not worth playing on it's own
This is just the first part of the full game and it is therefore quite short and has no proper ending. The game is a space adventure that is constantly trying to be funny. Unfortunately the humour did not really work for me. I found the game to be more silly than funny. This first episode of the game ends shortly after most of the major characters of the full game have been introduced and therefore doesn't have a whole lot of a story. The hand drawn graphics are quite good and the music and sound effects are appropriate although there is no voice acting and the music could have been a bit more varied. The puzzles in the game are of quite varied level of challenge, ranging from very easy to quite challenging, and in general challenging puzzles seem to be followed by easy ones. I found this approach to work quite well as it was nice to be able to make some quick progress after solving a difficult puzzle. One aspect of the game that I found quite unpolished was the responses that the main character gives to your attempted actions. The responses to actions that do not work are the same no matter what it is you are trying (except if what you're trying is almost the right thing) and are sometimes quite inappropriate. When I try to use a hammer on a nail and the character responds with "That is an unusual idea but..." it makes me feel that the developers haven't put a lot of thought into dealing with possible actions the players might try. This kind of inappropriate response to an attempted action reduced the sense of immersement in the game for me. In conclusion, the failed attemps at humour, the fact that this short first episode doesn't have too much of a story and the unpolished responses to attempted player actions keep me from wanting to recommend this game, despite good hand drawn graphics and a good level of challenge. However, this is based only on this first episode, the game may well improve in the second episode, which may make the first episode worth playing to get an introduction to the characters and game universe before playing the second episode. In fact my experience with the demo of the second episode suggests that this may be the case. My rating should therefore be interpreted as a rating of this episode based on it's own merits.
June 4, 2012
Kaptain Brawe Ep. 1
Was def. only worth $2.99. It was fun but I finished in just a few hours.
December 13, 2011
Way too short
Cute graphics and funny dialog. WAY TOO SHORT!
December 19, 2011
A Really Old School Game ...
Graphics & Sound Are Right Out Of The PC History Books ... This Is The Sort Of Stuff That Got Me Started In The Late 80's & Early 90's When PC's Started Showing Up In Homes For Gaming ... All Very Cheesy, But A Bit Of Fun If You Want Something Dated To Play Without A DOS Emulator ... There Are So Many Old Games Out There That Should Be Modernised & Re-Released ... I Used Up One Of Many Vouchers I Had Piling Up, And I'm Downloading The Second Episode As I Type ...
November 22, 2014
Really wasn't good
I read the reviews and looked at the video and thought the graphics looked like fun. I wasn't too concerned about the game being "short" or just an introduction to Part 2. But the game just did not work. I started out on the more difficult level, then went back to play at the basic. Didn't matter. Following the clues didn't result in forward movement. I use my Free Games to try different games than I would ordinarily get.This wasn't a successful try.
August 16, 2012
Very short game and no ending....just stops and tries to get you to purchase the 2nd edition!
Really did not enjoy this - was way too short and had no real puzzles or challenges. The ending was awful - if you can call it an ending! I felt that the game ended far too soon and had no real story. The game lacked voices which was also disappointing. Regret paying for this game. At first i thought it was going to be fun and classic like the old monkey island games - but unless you want disappointment, save your money.
December 14, 2011
Not worth your time
This game might be fun for someone not used to more sophisticated games like Syberia and Return to Mysterious Island. I found the graphics juvenile and the on-screen printed dialogue stilted. I deleted the game about 2 minutes into the trial.
December 16, 2011
The Apple logo is a trademark of Apple Computer, Inc.