Kuros
When Katya, a young explorer with no memory of her past, awakens on Kuros, she finds a mysterious alien world teetering on the brink of destruction. Determined to piece together her forgotten life, she sets out to explore her strange surroundings. With the guidance of six unique allies, help Katya explore five elemental realms and heal the mysterious and damaged glyphstones that govern the landscape in this exciting puzzle game!
Immersive atmosphere
Explore Kuros!
Game System Requirements:
OS:

10.5

CPU:

1.0 GHz (INTEL ONLY)

RAM:

512 MB

Hard Drive:

121 MB
Game Manager System Requirements:
Browser:

Safari 4.0 or later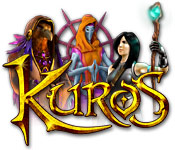 NEW299
The Big Fish Guarantee:
Quality tested and virus free.
No ads, no adware, no spyware.

Reviews at a Glance

Kuros
0
out of
5 (
0
Reviews
Review
)
Customer Reviews
An all-timer classic yet highly inventive
Kuros is one of the very first casual games I purchased and although many releases have seen the day since, it's still one of my favorites, one I replay with great pleasure. A lot of work and imagination have resulted in a gripping adventure, without any HO Scenes, that offers not only many lovely minigames and clever puzzles, but also bright and colorful visuals of high quality, half of them borderline to surrealism. It's a fantasy world not too easy to explore, but so different from today's "norm", devoid of anything morbid or gory, enchanting from start to finish. Tasks are plentiful, novel, and always make sense, in line with a story that sparkles your interest right from the beginning. Kuros is true escapism and surpasses a lot of new games which, by using always the same common artifacts, items and minigames differ from one another solely by how good the intro is
February 2, 2012
Out of this world
A fantastic game good backgrounds it made me think a lot about what to do had to take breaks kept me glued to this game for what seemed like hours really good game.
January 28, 2013
Kuros is a delightful hidden object game.
I have had this game a long time and still replay it. Some of the puzzles drive me nuts as am not a puzzle person, but the hidden object factor is great!! Is one of the original style of H.O. Games, and is still my preference to play. I wish there was a follow up to the Kuros that continued in the same line of play. There are two other games that are related, but are mostly match play - I have them as well but seldom play them
November 17, 2014
Great Hidden Object Game
I have played this game several times and never tire of it. The graphics are great and it challenges ones skill in several places but not to the point of discouraging the player. I really like this game and I can't say that about all of the 100 games I own.
June 23, 2014
Agreat game..replayable
I really liked this game. The artwork was really well done and the game play was gripping. Once I started this game I couldn't stop and dinner went uncooked more than once...and that was the second time I played it. Definitely a game to put in your collection.
March 4, 2012
A beautifully immersive adventure game!
TITLE?Kuros VERSION?Standard Edition (full game) DEVELOPER?Sandlot GENRE?Adventure (fantasy) STORYLINE?You play as Katya, a young woman who awakens in a strange realm with no memory of who she is. Fortunately, the Exarch, Katya's teacher, soon appears and tells her she must restore the glyphstones of Kuros, the realm she is in. The very fate of the Universe depends upon it, in fact. OVERVIEW?Kuros is a graphically beautiful adventure game reminiscent of Myst. As such, there is no hint button on which to rely. You actually have to use neurons, folks. (There is a BFG blog walkthrough if you really get stuck.) I truly miss games like this. GAMEPLAY?Point 'n' click adventure with inventory, lots and lots of puzzles, and some "find 10" hidden object quests. (I use the term "quests" rather than "scenes" because they're generally not all in the same area.) The puzzles range from swap the piece puzzles to series logic to connect the pipes to simple jigsaw puzzles?and more. INTERFACE?Inventory is across the bottom. Items aren't automatically placed there; you pick up and place things there. You can store multiples in the same slot to save space. The options menu is at bottom left, and this is also the area that keeps track of the map pieces you've found, and the interactive area for the series logic puzzles. TECHNICAL?No issues. GRAPHICS?Beautiful 3D rendered graphics in stunning colors and textures. Kuros is a feast for the eyes. CUTSCENES?Gorgeous animation. The cutscenes can be skipped, but I don't recommend it. They're not long and they convey storyline you need to know to be truly immersed into the game. MUSIC?Perfect for the game without being intrusive. Instead of repetitive musical compositions that you get tired of hearing, the background music was more ambient, again reminding me of the Myst series. Devs pay attention! This is how the music should be done. SOUND?Game sounds were appropriate. VOICEOVER?About 70/30 really good to awful. Katya's voice, which you heard the most, was well done, as was the Exarch's. A couple of the minor characters had voices that seemed wrong to me, and the villain's voice was just awful. He was supposed to be evil, after all, and all I wanted to do was give him a time-out. SUMMARY?Other than some improvement on the voiceovers, Kuros is an overall excellent adventure game. I only wish it had been longer. The initial location had several areas to explore, while each subsequent area had fewer and fewer areas. I would have liked Kuros to have been about doubled in play time, and I could have given it 4 and a half stars. But I still highly recommend it for fans of straight up adventure games.
April 8, 2013
Fun and challenging, but short
Maybe I'm spoiled by gargantuan games like the MCF series, but this game seemed to be a very quick play. I really enjoyed it; I just wish there had been more of it. It feels like the designers got in a hurry the closer they got to the end. The first section has a fairly complicated "treasure hunt" over several locations, but by the time you get to the last location before the finale, it's two locations and one sub-location on each level and done.
March 16, 2013
Adventure game
I really like this game,At first little hard to understand but later on a very god game. Hard mini games but fun. If you buy this game you have many hour of gaming.
December 5, 2011
made me think game
Little obtuse at times, but a lot of fun. Could not stop playing. Had to go for help a few times.
November 18, 2011
Kitty's Thoughts: Beware of bad teachers.
This is one of my first hidden object games to brought me into casual gaming. So, here's my thoughts about it. First! We're starting with the story line. You start out as young teenage female teleported on a mystical land that seems to be well... broken. During your request, you try to piece together this broken world and figure out who was the cause of it's demise. Even though it was simple, it pulled me in with some interesting yet comical characters. Level of Challenge in this game is very easy though. To be warned, there is no hint button. However, this is a good game for beginners who want to get away from such things (that later games try to get you to use more). You have to deserve your hints by searching for two types of items during the game. However, there's only a limited number, so use them wisely. However, the visual and sound quality is really good. Each place has it's own music and matches the mood of everything around you. Overall, it is really relaxing and almost meditative while playing. I didn't mind the limited animation because the voice overs were pretty good and matches each character very well. That's why I gave this mark the highest. Overall, the fun in this game is really good. Regardless of the easy puzzling, the game offers a feel for beginners to get use to which is solving puzzles with limited hints. You can't skip any of them either. However, once you get use to it, you realized you may not need them. In the end, I give this game a 4 out of 5 and recommend this game to any newbie who wants to get into hidden object games with puzzles.
July 27, 2013
The Apple logo is a trademark of Apple Computer, Inc.
The Windows logo is a trademark of Microsoft, Inc.