Sherlock Holmes and the Hound of the Baskervilles
Charles Baskerville is the latest victim of a centuries-old curse! Now, Henry Baskerville needs Sherlock Holmes' help to break the curse, before another murder occurs! Travel to legendary Baskerville Hall, and figure out exactly what is going on, and what the mysterious Hound of the Baskervilles is after. Crack the case in this incredible Hidden Object Puzzle Adventure game, Sherlock Holmes – Hound of the Baskervilles!
Incredible gameplay
Fantastic action
For a more in depth experience, check out the Collector's Edition
Game System Requirements:
OS:

Windows XP/Vista/7/8

CPU:

1.6 GHz

RAM:

512 MB

DirectX:

9.0

Hard Drive:

228 MB
Game Manager System Requirements:
Browser:

Internet Explorer 7 or later
Blood
Mild Violence
Use of Tobacco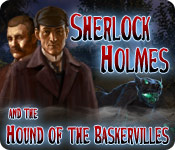 NEW299
The Big Fish Guarantee:
Quality tested and virus free.
No ads, no adware, no spyware.

Reviews at a Glance

Sherlock Holmes and the Hound of the Baskervilles
0
out of
5 (
0
Reviews
Review
)
Customer Reviews
Sherlock Holmes and the Hound of the Baskervilles
86
86
Love it
One of my favorites. This game is flawless. Really enjoyed playing it and loved every aspect of it. If you can only buy one game, I would strongly consider this one.
April 1, 2012
Fun game!
I too find a lot of games too simple now. I do love a challenge and the puzzle games were that. i don't like to breeze thru games and this one held my interest and I hated to see it end.
March 31, 2012
Wonderfully Challenging and Intriguing
"Far from elementary, my dear Watson, but a challenge worth accepting!" I love a good, challenging game and this one did not disappoint. Help solve the mystery of the Baskerville Hound curse and free the ancestors on the family tree. This is an IHOG adventure. You'll move around the estate, solve many puzzles, do a few HO scenes and find several objects needed to interact with. A little bit of everything and very well done. Challenge: Most definitely. I played on Hard Mode, used only a couple of hints for HO scenes (p.s. a canteen is not a flask) and I didn't skip any of the puzzles. These are the types of puzzles that give you a sense of accomplishment when you've completed them without cheating or skipping. I did, however, use the walkthrough on Charles' door. That one is confusing even with the instructions. You can also earn badge rewards for completing things (ie 10 HO scenes without a hint, 3 puzzles without a skip, etc). I love the comments when you earn these too ("Wow, you're fabulous, perhaps we should take the skip away?"). Or something close to that effect. :o) Options: Regular and Hard modes available. There is an interactive map of the estate showing you which areas have tasks and you can go right to them rather than having to wander back. Length: I completed the game in 3.5 hours, but it felt a lot longer. I had a hard time not completing the game all in one sitting because the story was so interesting; I wanted to see how it all ended. Graphics/Music: Both are good. I thought the graphics were clear enough that I didn't have issues in the HO scenes (no eye strain) and the music wasn't intrusive at all and fit well with the game play. Overall Grade: A+ (I love the variety of things to do, the storyline and the overall execution of the game).
March 27, 2012
Relaxing Pace, Enjoyable and Good Entry Level for a New Adventurer
Purchased as DD, great value for a great game. I probably would not have bought it if it were regular price. I played a Sherlock Holmes game many years ago and it was just too difficult (at that time they did not have walkthroughs?it was a loooooong time ago). This was fun, easy flowing with just the right degree of difficulty for an adventure game. It would be a good entry level for a beginner. There were some HOG?s, but not many. There is a map that eliminates the need to go to and fro, it is also a helpful addition to remind you where you are after a break (some of us tend to get forgetful). It also indicates when an action is needed in a specific area. I played in hard mode; this game may be too easy for the hard core adventurist. There is a ?past version? of actions in each room, which makes it feel like you have more game. The graphics are acceptable, not great but definitely not cartoonish. The voice overs I enjoyed. The accents were acceptable and Holmes sounds as snooty as ever! There are accomplishment awards which are always fun to see what you can win. I found it relaxing and enjoyable to go at an easy pace. I played several hours at a time, did not skip puzzles or videos or phone in hidden object scenes and completed the game in just under 5 hours. I?m very happy with that for $2.99!! Animal lovers beware, there is some suggested animal cruelty (Franken dog), and I was surprised at the very first scene which shows a murder. I was not expecting that and found it a little disturbing and unsettling in a pc game. I?m not hardcore about this when I comes to a movie I tend to accept it as plausible, but I?ve never seen one on a pc game I?ve played before (definitely not on Big Fish website). That said, I think I?ll try another Sherlock Holmes game soon.
March 26, 2012
Excellent Hidden Picture Game!!!
I was very surprised with this one. I have always been a fan of Sherlock Holmes so I bought this one with trying the demo...and I was expecting to be disappointed. However, I was pleasantly surprised instead. The entire game was very enjoyable. The Hidden Object scenes were challenging without being frustrating...and I liked the idea of collecting many pieces of each future puzzle together before you could work on that puzzle. The dialogue was interesting...and funny if you are a fan of Holmes...since they poke fun at him several times (ex: "Holmes, you realize you just said Logical AND Demonic Dog in the same sentence?"). The ending was a tiny bit disappointing but I liked it overall anyway. For my personal taste, there was one puzzle that I skipped because I dislike the type wholeheartedly (turning some pieces which turn lots of others...and you have to get them all facing the same way). I find those annoying and tedious rather than fun...but I guess other folks like those. I definitely recommend this....!
March 26, 2012
Well worth a game credit, and
a heck of a deal at 2.99. I played in hard mode and found it just right. Some of the puzzles were really hard, and I had to skip them, but in easy, it would have been too simple a game. Excellent graphics, takes a long time to play. Would absolutely recommend this game.
March 25, 2012
Are these ratings too high?
Could any game really deserve 5s from so many reviewers? Could any game really be that good? Especially a game drawn from a well-known book? I bought this game without trying it first just to see. I am not disappointed at all. It really is a very good game. Previous reviewers were not kidding. Warning: the plot is quite different from the book. Otherwise, the game play was very much fun, I think I had to use the walkthrough only twice, and I played a number of the puzzles, even though I dislike puzzles. Special note: the options for this game include setting the resolution, the Gamma, and the music, sound effects, and the voices separately. Why can?t every game change the Gamma? Maybe the rest are ashamed of their artwork? Recommendation. Try it. You, too, might just love it.
March 24, 2012
Excellent Game
I wish I liked all the games as much as this one. Lot's of puzzles, some hidden object scenes, but not so hard you can't find them with a little searching. You pick up things in different rooms. One thing I really appreciate is that when you are finished in one room, there is a message that locations is complete. That is so helpful. Also, as you collect pieces of things you can place them where they belong even if you don't have them all. This keeps the inventory from being so full. Just a wonderful game.
March 20, 2012
Loved it!
Loved this one! Awesome graphics, loved the hidden object scenes, and great storyline! It was a little easy for me so going to try it in hard mode. Lots of fun and definitely recommend!
March 19, 2012
OUTSTANDING
Wow!!!! This was a very outstanding and mind challenging game. Good Graphics,Good Story Line,and good puzzles not to hard to solve.I couldn't stop playing once i started...I recomend this game very highly...
March 9, 2012