Sherlock Holmes and the Hound of the Baskervilles
Charles Baskerville is the latest victim of a centuries-old curse! Now, Henry Baskerville needs Sherlock Holmes' help to break the curse, before another murder occurs! Travel to legendary Baskerville Hall, and figure out exactly what is going on, and what the mysterious Hound of the Baskervilles is after. Crack the case in this incredible Hidden Object Puzzle Adventure game, Sherlock Holmes – Hound of the Baskervilles!
Incredible gameplay
Fantastic action
For a more in depth experience, check out the Collector's Edition
Game System Requirements:
OS:

Windows XP/Vista/7/8

CPU:

1.6 GHz

RAM:

512 MB

DirectX:

9.0

Hard Drive:

228 MB
Game Manager System Requirements:
Browser:

Internet Explorer 7 or later
Blood
Mild Violence
Use of Tobacco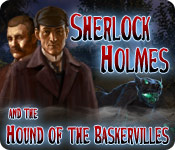 NEW299
The Big Fish Guarantee:
Quality tested and virus free.
No ads, no adware, no spyware.

Reviews at a Glance

Sherlock Holmes and the Hound of the Baskervilles
0
out of
5 (
0
Reviews
Review
)
Customer Reviews
Sherlock Holmes and the Hound of the Baskervilles
86
86
A Challenging Mystery Adventure
It was great to take on the role of Sherlock Holmes to try to solve a supernatural murder mystery. The game is filled with hidden objects and puzzles and requires you to travel back and forth through time to discover clues to cracking the case. Nice music and graphics add to the Gothic mood. Very entertaining.
February 22, 2012
Sherlock Holmes and the Hound of the Baskervilles
This game was the best I have played and that is saying a lot. I play these type of games so often that they seem so short and simple but this had just the right amount of intensity and kept my curiosity. I wish I could find similar games. Thanks Big fish I Love you!
January 31, 2012
Great game!
Challenging, great graphics and sound.
January 28, 2012
A good story is timeless
This is an older game, but still a good one imo. I didn't think I'd like it as much after playing it again over a year later, but I really enjoyed this game --again. It has an interactive map, and it's well done. The HOS and mini-games aren't too difficult, and they're still original. If you're playing for casual entertainment, I recommend this game. The lighting is a little dark at times, and the visuals aren't the best, but the game flows well. Besides, who doesn't like Sherlock Holmes?
July 15, 2013
An Awesome SE That's Incredibly Unique and Fun!
Want a breath of fresh air? A new experience? Tired of the same formulaic HOPA game? You'll definitely want to grab this, then! You get to play as Sherlock Holmes and you have your trusted friend and sidekick Watson at your side, of course. You are both visited by Henry Baskerville, who tells you that his uncle, Charles Baskerville, has just been murdered by the cursed hound that has been systemically killing the Baskervilles for generations. In desperation, he comes to you for help in order to break the curse, before the hound claims Henry as its next victim. The immersiveness of the storyline, the fast-paced soundtrack, fun and intriguing dialogue between Sherlock, Watson, and Henry, and the gameplay elements such as traveling back in time to gory crime scenes- makes for such a sensational game! There is so much to do in this game. It takes place entirely in the Baskerville manor (and around the property). You get to travel around the house, visiting the rooms of each of the family members who had been killed by the hound, all while learning about them. What is really neat is that each of these rooms have a wolf head that -- if you find and collect its crystal eyes -- will activate and send you back in time to when they were murdered. What you're presented with is a ransacked room with slashes and blood all over. You can travel back and forth from the present to the past in order to collect clues from the crime scene. You also have a medallion, allowing you to use magical powers to perform certain actions that are needed to find and acquire some clues/items. These include super strength to lift things and break stuff open, increasing your perception to see in dark corners, materialization to materialize picture objects into real ones, speeding up time to make things go faster like growing a plant, and telekinesis to lift or move things you can't reach. If the fact that there is magic involved in a Sherlock story bothers you, know you're not alone. Lots of other reviewers have pointed it out as well. You're not going to like it at first, but you'll quickly get over it. The game delivers on so many other accounts that it makes up for the oddity of Sherlock believing in and using magic. Visually, this game isn't great by any means. I'm a pretty big graphics-nut so take that for what you will. By any means, it's not awful, it's just decent- maybe even a little outdated. Oddly, the average-looking scenes are the crime scenes you visit in the past because they have this bluish haze and the colors are more vibrant. The screenshots are misleading as the first one is in the bonus content offered in the CE and graphically, it's the best-looking scene in the entire game so don't think the whole game looks like that. It doesn't. -1 star. The game suffers from being graphically inconsistent. The soundtrack was excellent, it fit the game theme perfectly and was very stimulating and exciting to listen to. Also, prepare yourself for hours upon hours of things to do. There are 32 mini-games and 24 hidden-object scenes. Adding the time it took to beat the game with the bonus gameplay (since I purchased the CE), I'd clock this game at 6 hours easily. I personally neared 7 hours because the puzzles/mini-games and the HOS are fairly challenging and I was really taking my time with them. 6-7 hours is really impressive, considering most games are 4-5 hours, including the bonus gameplay. If you get this SE, I'd say 5-6 hours, which is incredible for your money's worth. I was going to rate this game 5 stars, but then I noticed that I'm not that crazy over it and the graphics were more of a disappointment to me then I originally realized. However, the game is unique, does something different no other game does, and the dialogue and storyline fit together really nicely to provide you with an authentic, immersive experience.
October 15, 2013
Enjoyable Sherlock Holmes - A guy's review
*review based on completing the full game in hard mode* Well, this famous character should be a stranger to no one, and for the ones who have actually read some of the books, one knows that the stories and mysteries are well written and quite engaging. This mystery might be the most famous of them all, and the game does not cast shame on it. It to is quite engaging. It has all the qualities of a HOPA (Hidden Object Puzzle Adventure) and does so in a clever way. A fair amount of adventuring, and quite a few puzzles to solve, and of course a big handful of HO scenes. Most of the puzzles are the typical of the genre that you have seen before, but still fun. Most of them are on the easier side, but it has a few more challenging ones. The HO scenes are clutter scenes, and with the graphic being a tiny bit blurry in places, and some items well hidden, it can be a bit challenging in a few of them if you have hard of seeing. They are not interactive and items already picked up will not return in the scene of the ones you return to. Graphically the game is ok. The characters seem quite blurry, but the scenes and locations seem sharper on the most part. There is hardly any animation in existence, which seem a bit lazy, but not game breaking. I had the music turned all the way down, so I can't really comment on that at all, but voice-overs were of high quality. Seemed very typical of Sherlock Holmes as portrayed before. The mechanics of the game seem on target, though sometimes you can not miss by much to get a misclick in the HO scenes. I also found it a bit tiresome to have to click "next" on each part of a conversation, but others might find that useful. There is a map that can also be used to fast travel through the scenes, not that it is really needed, but some people like it that way. The map also shows where you have tasks to do, even in hard mode. If you stand inactive for a little while, you will also get an onscreen hint to what you need to interact with or where you need to go. They could have dropped that in the hard mode at least. Speaking of which, there are two levels of difficulties to play: Easy: You get a tutorial in the beginning, additional help/hints, quick hint recharge, easy puzzles and easy HO scenes (whatever that means) Hard: No tutorial, limited help/hints, slow hint recharge, hard puzzles and hard HO scenes. It never felt that hard in the "hard" mode (I did not use hints at all, but ended up skipping one single puzzle), so if you want a challenge I suggest playing in the hard mode. There is also a "achievements" system, and if you want to get them all you will have to play both modes. It also has a button for a strategy guide, which was a bit too closely placed to the map, so I clicked it by mistake twice. The guide is not in-game, but an online site, and does minimize your game to task bar. Highly annoying. All in all the game was a lot of fun to play and I would recommend it to anyone who likes this genre of games. It is a mystery and is a bit dark and gloomy, but never truly scary. Will not suit younger players though. For the guys: Well, no need to tell anyone that you play a male character in this one, and most of you will know the story. It suits both genders without a doubt. TJ
June 5, 2012
Another Great Instalment in the Sherlock Holmes Series
This game was great, While not as good as The Lost Cases of 221b Baker St, it was still really intriguing and I wanted to find out what happens. Good Parts: Intriguing storyline Past to Present Refilling hint bar Able to skip puzzles (for those of us who can't be bothered) Great hidden object scences You weren't timed or penalised for wrong clicks The artwork Couldn't think of an ok part so I'll skip right to the bad parts Bad Parts: Took me a while to get in to it When entering rooms, doesn't tell you what you need to find Some of the puzzles were extremely frusturating Conclusion: This is a great game. This provess why the Sherlock Holmes series is so great, This is the second game I've played and can't wait to play more!
May 5, 2012
A lot to like, a few things to nitpick
I do feel this game captures the spirit of a Sherlock Holmes story, even though it's not strictly accurate to the novel. That got a big thumbs up from me right out of the gate. I believe this was also the first time I've ever seen a game on Big Fish that offered easy and hard levels that actually made a difference to the difficulty of the puzzles. I haven't tested the hard level yet, but I plan to. One big problem I find in a lot of games of this genre is the "tail" of locations where you have things to still do gets too long and you forget things. This game packages all that up quite neatly. You can complete all tasks in a given area, to a great extent, in more than two or three entries, and the game even gives you a little "Location Completed!" sign when you're done. While useful, I did feel that took some of the mystery out of the game, but I'm sure lots of people adore this feature, so it's probably worth keeping around. One thing I did find absolutely flabbergasting was that the strategy guide was not implemented with the game, and more than that, one needed to purchase it separately. Glad I only needed to use it once, which meant I managed to get the info I needed in the allotted trial time. But still, ridiculous. And that could be a problem when I play through it on the hard level. But to end on a positive note, the ending (which I will not spoil) is MUCH more developed and satisfying than most games of this genre, which thrilled me. I actually felt like the story had true closure, which was a fantastic feeling. That's the reward I really shoot for with games like these.
August 30, 2013
SOLID SHERLOCK HOLMES
Based on complete game, both casual and hard modes. Moderate length (a few hours). Gameplay: Straightforward. 7 cases of Baskervilles need their coats of arms restored in order to be released from their eternal gloomy nonexistence. Along the way, you acquire super powers like materialization and perception (which is really illumination) so you?ll be breaking a lot of things and lighting a lot of dark places. Travel is between the past and present through portals in each Baskerville room and, once you have all the pieces for the coats of arms, you are given a chance to immediately go to the pictures to complete the coats of arms. Of course, this being about Sherlock Holmes, all the cases are solved. HOS were well defined and decently sized. The difficulty of the varied puzzles was easy to moderate. Graphics were clear. Music and sound was good. You are notified when all activities in a location have been exhausted. Of course, we know all the cases were solved, or this wouldn?t be a Sherlock Holmes game. Beginners will be able to play the game without pulling all their hair out.
July 23, 2012
A fun romp except for the abrupt ending
I actually liked this game, despite the fact that it has nothing to do with Conan Doyle's novel. It has some annoying bits that include a jarring sound scheme and really silly plot devices, but the puzzles are just right for the most part (one of them is ridiculous though) and the HOS are solid. The one big concern for me was the abrupt ending. It comes all of a sudden and poof, the game is over. Still it's worth a few bucks and about 5 hours of your time. I wish the people at Classic Adventures would take on the story though. The original novel has all the makings of a great background for a hidden object game.
November 27, 2012