Sherlock Holmes and the Hound of the Baskervilles
Charles Baskerville is the latest victim of a centuries-old curse! Now, Henry Baskerville needs Sherlock Holmes' help to break the curse, before another murder occurs! Travel to legendary Baskerville Hall, and figure out exactly what is going on, and what the mysterious Hound of the Baskervilles is after. Crack the case in this incredible Hidden Object Puzzle Adventure game, Sherlock Holmes – Hound of the Baskervilles!
Incredible gameplay
Fantastic action
For a more in depth experience, check out the Collector's Edition
Game System Requirements:
OS:

Windows XP/Vista/7/8

CPU:

1.6 GHz

RAM:

512 MB

DirectX:

9.0

Hard Drive:

228 MB
Game Manager System Requirements:
Browser:

Internet Explorer 7 or later
Blood
Mild Violence
Use of Tobacco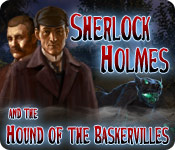 NEW299
The Big Fish Guarantee:
Quality tested and virus free.
No ads, no adware, no spyware.

Reviews at a Glance

Sherlock Holmes and the Hound of the Baskervilles
0
out of
5 (
0
Reviews
Review
)
Customer Reviews
Sherlock Holmes and the Hound of the Baskervilles
88
88
SOLID SHERLOCK HOLMES
Based on complete game, both casual and hard modes. Moderate length (a few hours). Gameplay: Straightforward. 7 cases of Baskervilles need their coats of arms restored in order to be released from their eternal gloomy nonexistence. Along the way, you acquire super powers like materialization and perception (which is really illumination) so you?ll be breaking a lot of things and lighting a lot of dark places. Travel is between the past and present through portals in each Baskerville room and, once you have all the pieces for the coats of arms, you are given a chance to immediately go to the pictures to complete the coats of arms. Of course, this being about Sherlock Holmes, all the cases are solved. HOS were well defined and decently sized. The difficulty of the varied puzzles was easy to moderate. Graphics were clear. Music and sound was good. You are notified when all activities in a location have been exhausted. Of course, we know all the cases were solved, or this wouldn?t be a Sherlock Holmes game. Beginners will be able to play the game without pulling all their hair out.
July 23, 2012
A fun romp except for the abrupt ending
I actually liked this game, despite the fact that it has nothing to do with Conan Doyle's novel. It has some annoying bits that include a jarring sound scheme and really silly plot devices, but the puzzles are just right for the most part (one of them is ridiculous though) and the HOS are solid. The one big concern for me was the abrupt ending. It comes all of a sudden and poof, the game is over. Still it's worth a few bucks and about 5 hours of your time. I wish the people at Classic Adventures would take on the story though. The original novel has all the makings of a great background for a hidden object game.
November 27, 2012
scary but fun
i have played this before and i got sacred and got nightmare
September 3, 2012
Elementary my dear Watson
This review is based on the SE version of the game so the CE might be better, I don't know. Overall it was a very enjoyable game, the puzzles were nicely challenging but for the most part not too impossibly hard. The skip button charged up fairly quickly although I managed to get through the game without ever using it (I was sorely tempted once though!). There wasn't too much back and forth and the map has a one click navigation feature so that saved some time. I do have two small complaints though: 1. While the story was mostly very interesting and kept me compelled to keep going, I was a little let down by the ending. I don't want to give away any spoilers but the way the "demon hound" was dealt with at the end, to me seemed a little anti-climactic after all the gory scenes we were met with throughout the rest of the game... just my personal feeling though. 2. Although the first two chapters were nice and long and took some working through (I only got through one and a half in the hour demo) the rest of them felt more rushed and I went through them rather quickly, especially the last two. I found this somewhat disappointing after having paid full price for the game when I had initially seen it as a 2.99 weekly deal but just didn't catch it in time. I think I beat the whole game in under five hours :/ Other than this though, it was a very fun game. Not too terribly many HO scenes, good level of challenge with the puzzles and exploration follows a nice logical process. The graphics weren't the best and there was no animation during voice overs (just a still shot of the speaking character) but this didn't really detract too much from the experience anyway. Also the achievement system was a really nice touch, gave a little ego boost here and there. And of course I loved feeling like a part of the Sherlock/Watson detective team! Totally pleasant way to pass a few hours of evening relaxation. So grab a nice hot cup of coffee or tea, pull up a cozy chair and enjoy this little gem of a mystery :)
April 4, 2012
Ok, great, but...
Having recently been hooked on HOGs by a friend and liking Sherlock Holmes, I decided to give this game a go, however whilst it was fun, I completed it in a little under five hours (on hard mode) which wasn't exactly a massive challenge. What I liked: 1) The map which let you move from location to location without having to click there manually and re-trace your path time and time again. 2) The Honors. Completing an HOG section with less than 10 mistakes, completing a series of them without using hints, completing 10 each in less than 3 minutes are all nice things to know. (Having an award eg for "taking more than 10 minutes", however, seemed a bit silly) 3) Most of the puzzles were good (I only skipped one out of sheer frustration) and they were reasonably well graduated getting harder through the game. What I didn't like: 1) The "Location Completed" messages. Fine, they'd be ok on Easy mode, but on Hard mode they took away the "have I done everything here? Is there something I've missed?" element. 2) Similarly the "there's something to do at this location" and "auto hint" if you've not done something in a location for a while should have been switched off in hard mode. 3) Too many repetitive problems "There's something hidden in an object, how are we going to get it out? Oh, the same way we did the last half-dozen times" 4) The supernatural elements. Sherlock Holmes stories were always factual and based on science and logic, not magic and mystical powers. Sir Arthur Conan-Doyle would have hated this game! Finally: The ending. Weak. I mean *really* weak. Boom, oh, it's over. There should have been a final puzzle or something to do to make it more tense and it should definitely have been more spectacular. It's a shame because it made a disappointing end to the game. Still, it was fun, it's playable, just don't expect too much from it. PS "Sherlock Holmes (tm)"?? I'd be interested to know where and with whom this trademark was registered, because I don't think they have the rights to it...
January 20, 2013
Not worth it
I played it on the hard level. The puzzles were very easy. Most items were in plain sight. Awful story.
May 21, 2012
Meh
With so many other great game to choose from, I can't say that I would recommend this one. Characters were dull, game wasn't exciting enough. Graphics were normal but nothing spectacular. Just uneventful and boring.
June 17, 2012
Terrible Game
If I could give this a negative star rating, I would do it. And I so wanted to like this. I expect that developers will take liberties with the stories on which they base their games but this adaptation went far beyond poetic license. It was a complete disappointment to me. The gameplay - as far as I got - was challenging and interesting, but I could not get past the depictions of animal cruelty and the human carnage. They're just not scenes I want in my brain and it's impossible to "unsee" them. This is the first game for which I wished there had been a rating as we see on some other games, indicating the level of violence and other issues which might be objectionable to some. I cannot and will not recommend this game. And I've stayed away from the developers since this came out, believing that I can no longer trust that I am in the target audience for the games they produce.
March 19, 2012